Piney Mountain Foster Care is now registered with Amazon Smile.
If you don't know what that is, it's a program Amazon.com runs where it lets its shoppers decide where it will give their corporate charity donations.  To use it you go to https://smile.amazon.com and choose the charity you want to support.  To select PMFC, use this window:

and type in "Piney Mountain Foster Care" in the "Charity name or location" window.
Click/tap the [Search] button and it will pull up Piney Mountain Foster Care, Inc.
Once you've selected it, all Smile purchases will have 0.5% of the order total sent to PMFC.  I should point out that this money comes off AMAZON'S profit, it is not added to your total.  They do not inflate prices for Smile shoppers (I've tested this).  Amazon is simply letting you tell them where to donate the money they have already decided to give to charity.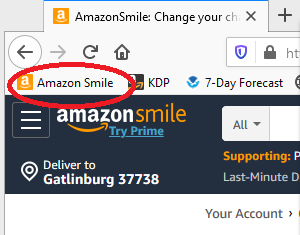 The catch is that to make it work you need to enter Amazon.com through the Smile portal (https://smile.amazon.com) for your purchases to count.  I make this easy by saving this site to a tab on my browser navigation bar.  Click that link and I'm in and ready to shop.
Once you've used it a time or two Amazon.com will ask you, "Wouldn't you rather be using the Smile portal?" and switch you over if you say "yes".  But you have to get it right on your own a couple of times first.
The really cool thing is that you can support PMFC (or any other registered charity) just by shopping for things you were going to buy anyway!  It's not just certain items, or at certain times: it's everything, always.
So, if you use Amazon.com, please support PMFC each time you shop by using the Smile program.  And tell your friends!  Half a percent may not be a lot of money on a single purchase, but if a gang of folks are doing it regularly it adds up.  And we will gladly accept all the help we can get!
---
Want to help
save lives?
If you enjoy our updates, Doggy Tales, and educational articles consider subscribing for notices when new pieces are posted. It's painless and you can unsubscribe any time you want. Your e-mail address is used ONLY to deliver these notices.