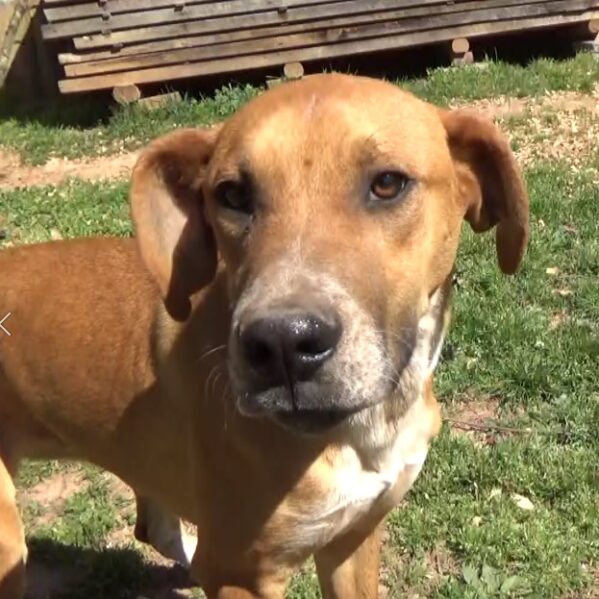 Last updated on May 30, 2022
History
Sonny was one of three dogs taken in by Piney Mountain Foster in an emergency situation to keep them from being shot by a "neighbor" whose rabbits were killed and he accused these three. Sonny and his litter mate, Cher, behaved in a bonded manner with Cher taking the dominant roll and Sonny the recessive. He was very shy and reclusive until Cher moved on. He has since blossomed with a personality of his own.
Base Info
Arrival date: Feb 18, 2022
Breed: Hound/Labrador
Sex: Male
Age: Youth
Birthdate: @ April 2021
Weight: 49 pounds
Spayed/Neutered: Yes
General Health: Excellent
Temperament: Shy but sweet. Food-centric.
SAFER Test performed: No
Departure date: Undetermined
Adoption Information
Start by submitting a completed Adoption Application (Now an on-line, mobile friendly form).
Contact information for your veterinarian is required and we will do a reference check.
If local (within @50 miles), schedule a meet-n-greet after your application has been processed. If you have another dog, bring it. A home inspection and interview will be done after a successful meet-n-greet.
If not local, adopter needs to contact a reputable rescue in THEIR area and request that rescue pull the dog from us after performing a home inspection and investigation of their own. You will then adopt the dog from them.
Local adoption fee is $200.00 This includes neuter surgery, vaccination against Parvovirus, Distemper, Adenovirus, Rabies, and Bordatella and a thorough de-worming. This dog has been microchipped and will be registered in the adopters name. Any health issues we found were addressed and are described below.
Progress Summary
Detailed notes may be available below photo gallery.
Relational Behavior
Relates well to other dogs: Yes
Can eat food/treats near other dogs: No – will steal food from other dog.
Preferred style of play: Loves to run/chase/bump, but will also engage in gentle mouth wrestling with a friend.
Is affectionate: Yes in a shy way.
Is good with:
. Men: Yes
. Women: Yes
. Children: Yes
. Cats: Unknown
Jumps up on people: Not so far
Mouths: No, unless you have food/treat in your hand.
Walks well on a leash: Not great, but doing better.
Commands
Comes when called: Yes
Sits on command: Almost there, will do it sometimes.
Down / Off: Yes
Shake / Paw: Not yet
Kennels on command: Yes, with a bribe/treat
House Dog Training
Willingly enters his crate: Yes. He LOVES his crate and blanket.
Is calm/quiet while in crate: Yes unless you're fixing food.
Understands going outside to potty: Keeps his crate clean, not yet reliable while loose indoors.
Alerts me of need to go outside: Yes
Is destructive of bedding and/or toys: No
Engages in kitchen counter cruising: Yes. He'll be on top of your fridge if there's food up there!
Stays off people furniture: Undetermined, don't have furniture in The Guest Cottage yet.
Photo Gallery