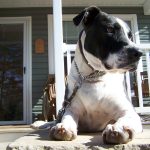 We all had a good play time this morning. I was running with The Boys: that made HairyFace happy. He wants me to do more running.
It's part of my job to be Playground Monitor, so when they'd start getting too rowdy I'd come galloping by, practically side-swiping them, and get them to chase me. And they would. The three of us would run like a little freight train all over the place until one of them (usually Drake) got tired and lost interest. Then we'd all wander around panting for a while.
Smokey always got stoked up again first. That boy has tons of energy! Sometimes Drake would go lean against Hairy's legs and say "Save me from him, I'm tired!" One time Drake and Smokey ganged up on me and wore me out so I had to go to HairyFace for salvation. That made him laugh, but he shooed them away.
I'm big and I'm powerful, and I'm faster than any of them, but I run out of steam sometimes. Because I came down with a thyroid condition, it's been a long time since I've had the desire to run. Now that I'm on medication I feel much better and am ready to resume my duties. But I'm overweight. Running will take care of that.
Yesterday was not such a nice day as today. It was a windy day, but we managed to have some fun. anyway: