This is a foster dog diary post about Luna. New information will be added to the end of this post so all info on this dog (well, most of it) is kept in one place and in chronological order. If you subscribe for updates, a short note will be sent when updates are posted. If you don't subscribe, check back periodically to see what's been added.

Last Updated: July 12, 2019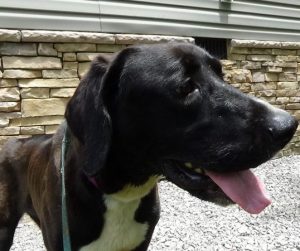 Luna arrived today. Luna was a stray picked up by Newport Animal Control and taken to their facility. She is a Great Dane / Black Lab mix. Not terribly large as, Danes go, but larger than the average dog and quite strong despite being scrawny from hunger.  Luna could easily climb out of the regular kennels at N.A.C.  The only kennel they have that could contain her is their "vicious dog cell" and that is in a part of the building that is not air conditioned. In the late-June mid-day heat, it becomes far too hot for anything to stay in there long. They needed another solution. So the manager, Lisa, reached out to me: would I foster her for them? We found a way to make that happen and I picked her up this morning.
Luna remains the "property" of Newport Animal Control.  Adoption or surrender to rescue will be handled by Lisa or Alicia at Animal Control, ask them about that.
City of Newport Animal Control
219 East Main Street,
Newport, TN, 37821
(423) 625-8444
AnimalControl@NewportTN.com
I know more about Luna because I'm the one caring for her, direct questions about her health, temperament, and training to me via comment on this article (bottom of page) or e-mail.  Most are also linked to from a summary blurb in the detailed notes.
Base Info:
Arrival date: June 28, 2019
Breed: Black Lab-Great Dane mix
Sex: Female
Age: Puppy, Young Adult, Mature, Senior
Weight: 56.5 Pounds at intake.  Should be more like 70, I'm working on that.
Spayed: Not yet, done at adoption.
General Health: Excellent, Good, Fair, Poor
Temperament: Calm, Stubborn
Gets Along with Dogs: Yes
Gets Along with People: Yes, adores children.
Housebroken/Crate Trained: She is house broken, not sure about crating her when I leave.  She voluntarily sleeps in a crate while I'm here.

Departure date: Undetermined
RescueMe.org listing: 19-07-05-00240
Progress Summary:
Detailed update notes are posted below the Summary. For a listing of Doggy Tails that include Luna [click here].
Dog to Dog Behavior

Relates well to other dogs: Yes Pretty much just ignores them.
Can eat food/treats near other dogs: Yes Blaze has been dining just outside her kennel door at every meal.  The two of them are fine with this arrangement.


Dog to People Behavior

Is affectionate: Yes – sort of aloof.  Except for belly rubs — she goes catatonic for a belly rub!

Good with children? We found out today that Luna ADORES children, prefers them to adults, actually!
Jumps up on people: No
Mouths: No
Walks well on a leash: Yes

House Dog Training

Willingly enters her crate: No / Yes
Is calm/quiet while in crate: No / Yes
Given her aversion to confinement, I have not tried crating her because she'd probably destroy it in moments. I'll try that when she settles in.

Understands going outside to potty: Yes

Alerts me of need to go outside: Yes

Is destructive of bedding and/or toys: No

Refrains from kitchen counter cruising: Yes

Stays off people furniture: Yes.


---

Commands:

Comes when called: Sometimes
Sits on command: No
Down / Off: Not an issue

Shake / Paw: No
Crates on command: No

Medical

DA2PP: 06/27/2019 NAC
Bordatella: 06/27/2019 NAC
Wormed: dates-by-product-dose:
06/28/2019 NAC Pyantel Pamoate, 6 ml
Rabies: WILL BE DONE AT ADOPTION
Spay: WILL BE DONE AT ADOPTION
Heartworm Test: WILL BE DONE AT ADOPTION

Flea/Tick preventative:
.  07/02/2019, Fipronil, 45# to 88# dog
Heartworm preventative:
.  dates, product, dose
Detailed Progress Notes
In roughly chronological order, newest at the bottom. Click the thumbnails to enlarge. Some pictures are linked to a Doggy Tale or video about Luna, click those to open the related story or video.
Arrival and Settling In
Chilling on her Kuranda and enjoying the fresh air and mountain view,

Getting along well with her neighbors – now that they've worked things out. (story)
July 5th
Luna obviously desires to go into the house.  Any house, really: our house, the Bunkhouse, the neighbor's homes, even the barn!
July 7th
I finally figured out why Luna refuses to potty in the yard.  She prefers not to defile her kennel either, but a girl can hold it only so long!  See : Luna's Housing Trials for details on this preference.
July 9th
Luna's morning potty run was successful, and she insisted on going inside afterward.  She could not go inside afterward because I had things to do outside.  Those were done by lunch time, so I took her her mid-day kibbles and we went out to the woodsy potty spot. For the past couple of days – including this morning – she has been content with this.  Not this time.  She wanted to go deeper off the trail and into the woods.  Not happening.  I'm using a 16 foot retractable leash for these walks.  I have to be careful where I let her wander and how far, because the cord of the leash gets wrapped around trees, saplings, dead logs, etc.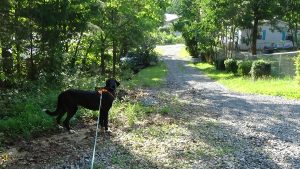 I also learned that Luna likes kids.  We were out for Luna's afternoon potty run and the kids who live across the road from us were out playing in their pool.  We can't see them from here, but we can hear them.  When Luna heard them her head whipped around and she started whining and dancing and straining on the leash.  She WANTED to go check out those children!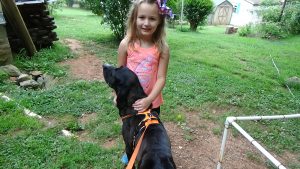 Following up on that: the following day a friend and her daughter came to visit.  Luna ADORED this child and just wanted to be with her all the time.  We were not the least bit afraid by that because despite being a large dog, Luna is SO gentle and calm she is not an injury risk.
July 10
Luna has seen me load and unload other dogs in my truck, and has been standing to to peer in the driver's side window as we walk past it to get to her Woodsy Potty Spot.  I suspect she wanted to go for a ride too.  Today she got her wish.  After our visitors left and the kennels were clean Luna and I took a truck ride to Tractor Supply for our month's supply of kibble.
| | | | |
| --- | --- | --- | --- |
| | | | |
| | | | Go cool off with the other house dogs by laying in front of the hallway fan. |
Luna is growing accustomed to our household routine and customs.  I'm convinced that a lot of her early escapism was simply trying to take care of her bodily needs in the manner to which she was accustomed .  It seems certain she was part of a family with kids.  She may have been trained to go potty well out of the play area.  She was probably allowed to roam freely.  She is confused by my refusal to just let her wander off into the woods.  But she knows that there are certain times of day that I come to walk her, and that I will give her some freedom to get off the path to potty.  Not far enough for her tastes, but if she agrees to my compromise, she gets to come in the house and hang out with the family.  When she wants to go out, she stands at the door and whines.  She's trying hard to fit in.  She's a *really* good dog.  So gentle and calm it's amazing for a young animal.
July12th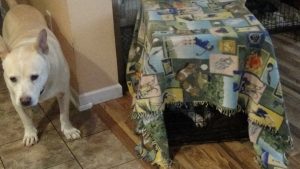 We had a thunderstorm yesterday.  When it thunders I build Buddy Beagle a "hunker bunker" to hide in because it calms him.  This time Callie Roo wanted one too, so I covered her crate as well and she scooted inside for a nap. Luna was napping in the hallway in front of the fan.
When the sky growlies were gone, Callie joined Blondie, Josephine and me in the den.  I didn't see Luna any more.  Where did Luna go?  Luna is a good girl, I wasn't worried about her being up to mischief, just wanted to see that she's okay.  I checked all her usual corners, she was nowhere to be found!
When I did find her it was in the LAST place I would have expected to see her: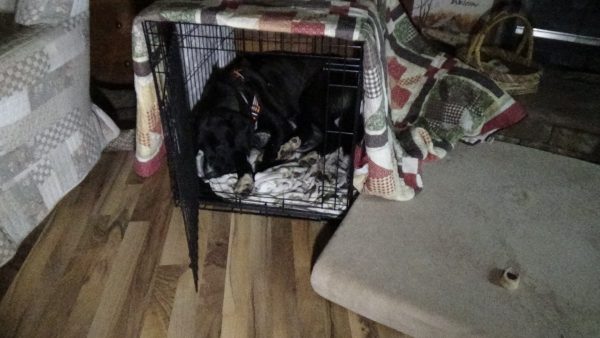 I've been reluctant to try crating Luna because I was afraid that would just be signing the death warrant on that crate.  She's very strong and quite determined.  But apparently she's decided that if Buddy and Callie have these special beds, she needs one too!  When Callie vacated hers, Luna took it over.  🙂
The only strike against Luna is that she has apparently enjoyed the freedom to come and go as she pleases.  She has obviously been a family dog.  She is trained to not defile the play yard (makes sense with kids playing there).  She enjoys going off on long walks in the woods.  This may have contributed to the fact that she was picked up as a half-starved stray by Animal Control.  There is no way to know her history, but we know she can easily scale a 6 foot kennel to get out, so my 5 foot perimeter fence will barely slow her down.  I take her out on leash walks, but she refuses to use the play yard.  We go out into the woods, but she always wants to go farther than I do.  This wanderlust is an issue.  There are deer, raccoons, possum, bears, coyotes, and copperheads in our woods.  Even if she were my dog to do with as I pleased, I would not turn her loose to roam.  Maybe that drive will diminish once she's spayed.  I hope so, she's much too nice a dog to get torn up by some wild critter.
| | | |
| --- | --- | --- |
| | If you enjoy our updates, Doggy Tales, and educational articles consider subscribing for notices when new pieces are posted. It's painless and you can unsubscribe any time you want. Your e-mail address is used ONLY to deliver these notices. | |