Baby was a treasured member of a loving family until the situation with their landlord changed and he demanded they get rid of their dogs. No fault of the dogs, but they lost their home.
Last updated: April 13, 2021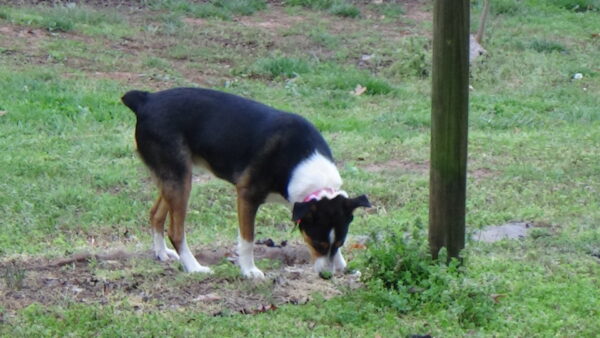 Base Info
Arrival date: March 30, 2021
Breed: Border Collie
Sex: Female
Age: Adult
Birthdate: @ 03/25/2019
Weight: @ 40 pounds on March 30
Spayed: Scheduled for Apr. 13
General Health: Fair (HW+)
Temperament: Exceptionally sweet, gentle, affectionate
SAFER Test performed: Yes – Passed
Departure date: Undetermined
Adoption Information
Submit a completed Adoption Application (Now an on-line, mobile friendly form).
Contact information for your veterinarian is required and we will do a reference check. We do not adopt to people who neglect their dogs.
An adoption Contract must be signed by PMFC and Adopter. This is a legal document and an actual signature is required. If the form must be mailed back and forth, allow time for that to happen. Electronic PDF is allowed if you can print/scan.
Adoption fee is $200.00 This generally does NOT cover what we have invested in medical care and room & board. But it helps.
---
Progress Summary
Detailed notes are below the summary
Relational Behavior
Relates well to other dogs: Yes
Can eat food/treats near other dogs: Oddly, she is guarded when in her crate, but not when taking treats in a loose group.
Preferred style of play: She likes to run in the yard and gentle tussling.
Is affectionate: Yes, very much so.
Is good with:
. Men: Yes
. Women: Yes
. Children: Yes
. Cats: Unknown
Jumps up on people: Yes – working on that.
Mouths: No
Walks well on a leash: Working on that.
Commands
Comes when called: Yes
Sits on command: Not yet
Down / Off: Not yet
Shake / Paw: Not yet
Kennels on command: Yes
House Dog Training
Willingly enters her crate: Yes, but EXPECTS a treat.
Is calm/quiet while in crate: Yes
Understands going outside to potty: Yes
Alerts me of need to go outside: Yes, goes to the door.
Is destructive of bedding and/or toys: No
Engages in kitchen counter cruising: No
Stays off people furniture: So far…
Diet
Victor Classic – Professional Dry Dog Food
1¼ cup plain kibble AM (does not care for our home made stew)
1 cup kibble PM
PMFC Peanut butter cookies given as rewards for compliance.
Occasional snacks include:
Retriever Beef Basted Sticks
Jones Beef Hooves (small)
---
Gallery
Progress Updates
March 30
Baby arrived this morning. All new intakes go into a kennel for evaluation and dog-dog testing with our "staff". Most stay in their kennel for a while because most intakes are wild-eyed, hooligan, street dogs pulled from a shelter. These sweeties were beloved house dogs. They should progress well.
March 31
She did excellently last night. I brought her in around 8:30. Marie played with her for a bit then I settled her in her crate. We fiddled about for a while getting ready for bed, then slipped off. Both of the new girls remained quiet and slept through the night. I got up once around 3:00 to greet John and they stirred, but did not fuss. I went back to bed and so did they. I got up at 4:00 (as is my habit) and took each of them outside to potty, gave each a drink, and began my study time. Both behaved splendidly!
This afternoon I was baking dog cookies. I moved crates for Baby and Maggie from the den to the living room where they have a good view of the kitchen. Baby is reliably house broken and a pretty calm girl, so I let her out of her crate to wander the front part of the house while I worked. She found a comfy spot in the kitchen with a better view of the stove and lounged on a blanket.
After a few minutes, Maggie got lonely and started fussing. Baby got up, went back into her crate (beside Maggie's crate) and laid down. Maggie stopped fussing.
How sweet is it that Baby cares that much about her little sister?
---
April 2
Baby Has been with us three nights now. Each night she has retired to her crate for the night around 9:00, after her last potty run, settles in quickly and sleeps the night through. I hear her stir if I get up in the night to use the bathroom. but she settles again when I do.
I was told that she's never been crated and would resist being crated. It found it is just the opposite. She finds comfort in her "room" and prefers to be in there when not playing or being petted. If she has toys, treats or food in there, she will be grump toward other dogs who approach her crate, warding them off. But if I cover the crate with a blanket – just on the side where another dog might be – she is calm and mannerly.
I have not noticed any aggressive behavior in her at all when out of the crate. She is friendly and playful with everyone, but at the same time respectful. If the other dog does not want to play, she will withdraw her attentions and seek entertainment elsewhere. I have not tried giving her toys or treats outside the crate with other dogs present. Not yet. I'll give her some time to get more comfortable with The Pack first.
---
April 11
Baby is doing really well. She is super-sweet and smart as well. She loves to cuddle – can get a little pushy about that sometimes, but I'm working on that. She plays well with the other dogs – mostly. She sometimes gets a bit rough with our "delicate little flower" Josephine. But Callie Roo is good at reminding her to be gentle.
April 13
Baby is at the clinic to be spayed and vaccinated against rabies. We also have them implant the microchip and do the Heart Worm test while the dog is unconscious. Unfortunately, Baby tested POSITIVE for Heart Worms. We are proceeding with the spay surgery, microchip, and vaccinations. We will have to get a quote from our vet on treating her for the Heart Worms, but it will delay any adoption for at least 60 days while she undergoes treatment. We know it's expensive. We will need to do a fund-raiser for her treatment.
---
More will be added as we get to know this sweet girl. Subscribe for notification of updates.