Last Updated: March, 11, 2022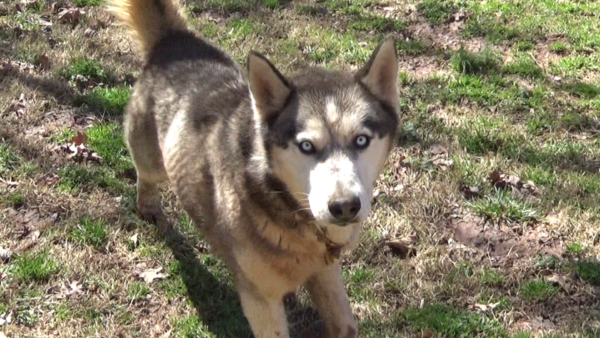 History
Zane was one of three dogs dumped on Piney Mountain Rd and accused of killing a residents rabbits. Reaction included gunfire. To keep them safe, PMFC built an emergency shelter and took them in. Zane's companions were a pair of 9 month hound pups: friends but clearly not relatives.
Base Info
Arrival date: Feb 18, 2022
Breed: Siberian Husky
Sex: Male
Age: Adult (currently 4-5 years)
Birthdate: 2017
Weight: 48 pounds on Feb 14 (should be 70)
……….. 52 pounds March 1
………… 57 pounds March 11
Spayed/Neutered: Not Yet
General Health: Poor: arrived emaciated. Has tested positive for heartworms.
Temperament: Very mild and cooperative for a Husky
SAFER Test performed: No
Departure date: Undetermined
Relational Behavior
Relates well to other dogs: Yes, responds stoically to antagonistic kenneled dogs.
Can eat food/treats near other dogs: Undetermined
Preferred style of play: Undetermined
Is affectionate: Yes, mostly aloof but does enjoy petting and treats.
Is good with:
. Men: Yes
. Women: Yes
. Children: Unknown, but probably.
. Cats: Unknown
Jumps up on people: No
Mouths: No
Walks well on a leash: Yes
Commands
Comes when called: Sometimes – depends on if he's busy.
Sits on command: Not yet
Down / Off: N/A
Shake / Paw: Not yet
Kennels on command: Yes
Observations
Zane tolerates The Children's rambunctious behavior but does not enjoy it. Sometimes the gently mouth-wrestle, he likes that. He does not like being dirty, and seems to want to be indoors. He may have been a house dog.
---
Separator
More will be added as care and training progress. To receive notices of updates subscribe below. It's painless and you can unsubscribe any time you want. Your e-mail address is used ONLY to deliver post notices. That's a promise!
Want to help save lives?
Everyone involved with PMFC is a volunteer,
no donated funds go to salaries or benefits.
We are 501(c)(3) – EIN: 84-3593563