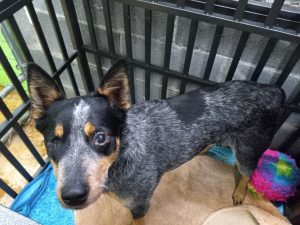 Last updated: Apr. 17, 2023
Introduction
This female, 30 pound Blue Heeler is one of the sweetest dogs you will ever meet. Yet someone beat her to the brink of death. Multiple skull fractures, cracked ribs, one eye ball punctured, the other suffered nerve damage as did both ears. One was filled with blood. Then this piece of filth tossed her in a dumpster to finish dying, alone and terrified.

Someone found her. Newport Animal Control named her after a character in a book and took her to Cedarwood Veterinary Hospital. Dr Sandra and her amazing staff had to force feed this girl with a syringe because she wanted to die so badly she would not eat or drink.

As she gained strength, J Lo changed her mind and began eating on her own. Examination revealed that she was now deaf and blind. As she progressed beyond the critical stage, PMFC was asked to foster her though the rest of her medical rehabilitation. How could we say no?

We were asked by the police officers who are Newport Animal Control not to post anything on social media as they were investigating the case, had a lead, and intended to press charges. Unfortunately they were not able to make a strong enough case to bring charges. So we may now talk about J Lo.

At her last exam Dr Sandra proclaimed, "You have done a phenomenal job with this dog!" I give credit to Fido Fixer Elixir for some of that.

Despite all that has been done to her, she is a sweet, affectionate girl. And, uncharacteristically for her breed, she LOVES being indoors. She is crate trained and house broken. She has made friends with the other Cottage dogs although I have not been allowing them to play together yet.

Because of the gag order, I did not build a web page for her right away. She is now available for rescue pull or adoption through City of Newport Animal Control. She is a special needs girl, you may contact me at Doug@PineyMountainFoster.org if you want to ask about that.
More info is in the progress notes below all the Info stuff.
Base Info
Arrival date: November 18, 2022
Breed: Blue Heeler
Sex: Female
Age: Adult
Birthdate: Unknown
Weight: 29.6 pounds on 11/18/2022
……….. 31.2 pounds on Dec 1
……….. 35.0 pounds on Jan 1, 2023
Spayed/Neutered: No. Due to brain damage, anesthesia might kill her.
General Health: Excellent
Temperament: Energetic, affectionate, clingy.
SAFER Test performed: No
Departure date: Undetermined
Relational Behavior
Relates well to other dogs: Yes.
Can eat food/treats near other dogs: Yes
Preferred style of play: Likes rowdy play with Blade. Noshing plush toys when solo.
Is affectionate: Yes
Is good with:
. Men: Yes
. Women: Yes
. Children: Probably
. Cats: Reacted with mild curiosity to a crated cat at the vet.
Jumps up on people: Occasional, gentle
Mouths: A little, when playful. Gentle. It's a Heeler thing. I discourage it.
Walks well on a leash: Yes
Commands
Comes when called: Yes. Vision impaired, but she tries.
Sits on command: Yes
Down / Off: Not yet
Shake / Paw: Not yet
Kennels on command: Yes
House Dog Training
Willingly enters his/her crate: Yes
Is calm/quiet while in crate: Yes
Understands going outside to potty: Yes
Alerts me of need to go outside: If crated, will paw at the door and whine.
Is destructive of bedding and/or toys: No
Engages in kitchen counter cruising: Too short!
Stays off people furniture: Yes, so far.
Gallery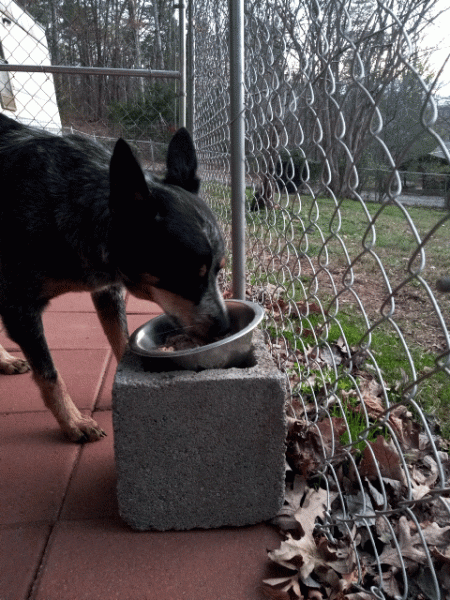 Observations
Jan 6
Guess who's auditioning for a spot as a house dog?
I was a little worried that Blade would beat up on her. He can be kind of a bully. But he's been good to her. Callie too.
This evening I was in the den. J Lo was pacing, pacing, pacing all through the house. Newbies do that until they feel comfortable in the new environment.
Blade bounded into the room, barked twice, and bounded out again. That's Malacollie for "COME SEE!" She must have done something and he's snitching on her. I went to see.
She was circling the kitchen. I saw no mess, nothing chewed up, nothing out of place. "So … what's the deal, Blade?" He sniffed her butt.
When she heard my voice she broke out of her loop and trotted to the back door and stood there. "Oh, you need to go out?"
Blade, J Lo, and I went out.
When she got to the yard she circled a few times to find the right spot and made a pile. Blade looked proud of himself.
"So you were telling me she needed to go and doesn't know how to ask? GOOD BOY!"
They both got a nice treat when we got back inside.
---
Jan 13
J Lo is getting more active. Her eyesight is improving so she is more confident in interacting with others and her surroundings. She likes rowdy play with Blade. I think she scares him a little!! She is doing GREAT at being a house dog: gets along with everyone (even shares her toys), is not chewing up anything, has not had an accident in the house, and as soon as she finishes her heat cycle I will let her sleep outside of her crate at night. I'm sure she will be fine.
---
Jan 16
Her right eye is gone, just an empty socket now. It would take surgery to stitch it closed and due to her brain trauma anesthesia would be quite dangerous.
Although the pupil in J Lo's left eye has remained dilated and fixed, she can see. Not perfectly I'm sure, but she has slowly regained enough sight to be able to navigate the Cottage, and the play yard, and now our house. At first she smacked into things and I thought about getting her a Halo. But before that could happen, she started regaining sight. In between, I kept her on a leash to help direct her.
She also got her hearing back.
I took J Lo in for a medical progress exam today. During the exam Dr Sandra went, "Oh my!" then called, "Rebecca, Chad, come in here." Chris and Angela were already attending. Dr Sandra shined a light in J Lo's eye and everyone took in a collective gasp. Her pupil constricted a little. Joyosity ensued.
On the ride home, J Lo was clearly pleased with herself. She's getting better, and she's doing really well. We're all happy for this sweet little gal.
---
J Lo was transported to A Pathway To Hope in New Jersey on March 3rd. There she went into a foster home while veterinarians examined her and developed a care plan.
She was cleared for surgery. She was spayed, the punctured eyeball removed and the opening closed off and a broken tooth was extracted.
While the was in the veterinarian's care, her Vet Tech fell in love with J Lo and entered into a trial foster for J Lo's recovery.
I was notified on April 17 that Noelle has formally adopted J Lo, now Leela, and everyone is very happy about that.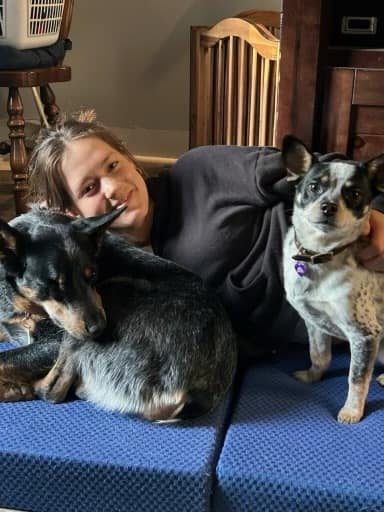 Want to help save lives?
Everyone involved with PMFC is a volunteer,
no donated funds go to salaries or benefits.
We are 501(c)(3) – EIN: 84-3593563