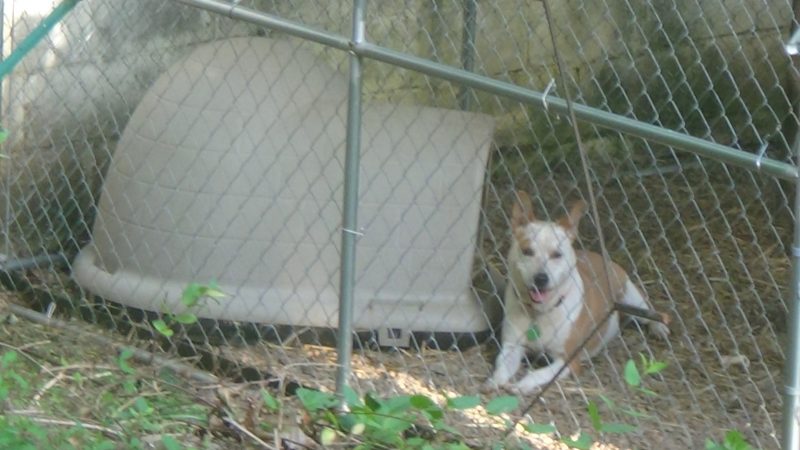 One of our current foster dogs has gone out to seek her fortunes in the world.
Babes, a 48 pound cattle dog has been staying with us for treatment of heart worms, but she is fully recovered and healthy once again. Babes is bright, energetic and playful. But she also likes to curl up and be petted. She craves attention! When we would approach her pen she'd leap so high into the air that thought she must have wings! She had some jealousy issues when she first arrived, but we worked on that and she and her foster brother Smokey became the best of friends, so eager to play together that they were working on a tunnel under the wall that separated them.
This little gal loved playing Tug-O-Rope. But it was never about getting the rope away from us, for as soon as she'd "win" she'd prance around a little, but then run right back to say, "Again, again, lets play again."
Babes was sent on a Rolling Rescue run from the Dr. Carol Hood Memorial Animal Shelter, who had fostered her out to us, to 11th Hour Animal Rescue in Rockaway New Jersey so she could participate in their largest adoption even of the year. Babes is so filled with personality, I'm sure she will be adopted quickly. She'd be a terrible apartment dog, but for anyone with a yard where she could run (and leap) and play, she'd be a perfect pet. She showed no tendency toward destructive (chewing) behavior. In fact she is one of the best we've hosted in that regard. She did like to bite on her ropey toy, but not in a way that tore it up, just mouthing it. Ropey toy's don't last long with most of these dogs, but Babes' toy is still in great shape.
Below is a little video farewell to our Babesy girl.