Everly is a fun-loving young girl looking for an active family to play with. Her small size makes her well suited as a house dog.
Last updated: July 10, 2021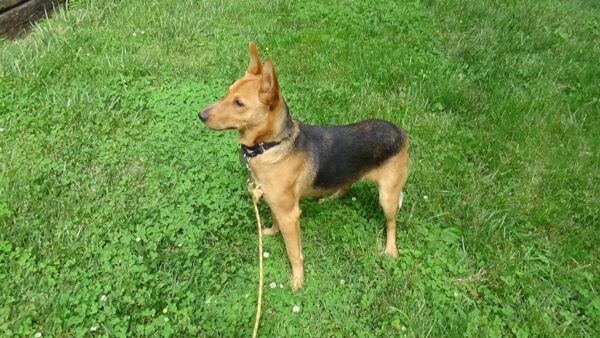 History
Base Information
Arrival date: May 22, 2021
Breed: Basenji mix
Sex: Female
Age: Youth
Birthdate: July, 2020
Weight: 28.4 pounds on May 10
……………..29.9 pounds on June 16
Spayed: YES June 16, 2021
General Health: Excellent
Temperament: Active, mildly affectionate
SAFER Test performed: Yes – Passed
Departure date: Undetermined
Adoption Information
Submit a completed Adoption Application (Now an on-line, mobile friendly form).
If local, a meet-n-greet is encouraged. If you have another dog, bring it.
If not local, adopter arranges transport. We frequently work with HEARTS LLC (fees are paid to the transport service) but have other options available.
Adoption fee is $200.00 This includes spay/neuter surgery, vaccination against Parvovirus, Distemper, Adednovirus, Rabies, and Bordatella and a thorough de-worming. This dog will be microchipped and the chip will be registered in the adopters name. Any health issues we found were addressed and are described below.
---
Progress Summary
Detailed notes are below the summary
Relational Behavior
Relates well to other dogs: Yes. Gets a little over-bearing in rough play with some.
Can eat food/treats near other dogs: Yes
Preferred style of play: She loves running & wrestling
Is affectionate: Yes
Is good with:
. Men: Yes
. Women: Yes
. Children: Yes
. Cats: Probably not, due to high prey drive of her breed.
Jumps up on people: When excited, yes. Once she calms, no.
Mouths: No
Walks well on a leash: Yes: pulls a little, working on that.
Housebroken: No
Commands
Comes when called: Yes.
Sits on command: Yes.
Down / Off: Yes
Shake / Paw: Working on that
Kennels on command: Yes
Gallery
Progress Updates
May 22, 2021
She just arrived, we're all getting to know her. She is active and needs to learn her manners, but she it not at all aggressive toward anyone, even Blade who is doing his best to intimidate her. She just turns it into play!
---
May 24
Everly is loosening up a bit now and is becoming affectionate. She is not a barker – I can't say I've heard her bark yet. She cry a little when I put her back in her kennel after play, but settles down quickly. She has been absolutely quiet at night – a blessing since the kennels are right outside our bedroom windows and the windows are open at night right now.
---
May 28
Everly really wants to play with the others dogs. All the other kennel dogs, but especially Luna. Everly will go to Luna's kennel and shove her snout through the fencing to lick Luna's nose. It's so sweet. they'd probably be fine together but I want to wait until I have someone else here to help with "introductions" and managing their play until we see for sure.
---
June 20
Everly is doing well after her spay surgery. When she was first released from Cedarwood Veterinary Hospital, P.C. she was one pitiful pup. And she soon began licking at her incision, so I had to cone her, making her just that much less happy. At one point she walked over to the fencing between her room and Blades, pressed the cone up against it and implored, "Help me Blade!". He came and sniffed out the situation but wasn't able to offer a solution.
Over the past few days Everly has steadily regained her energy and perkiness. Today she wants to show you how well she now obeys the "come" command (video above). She goes back for her post-op exam on Wednesday then will be available for adoption or rescue placement.
---
June 28
Everly is doing well with her surgical recovery and was de-coned today. She is everly so grateful.
---
July 10
Everly has had several meet-n-greets over the past week. For the first one, Everly got all excited about someone new being here and was jumpy. I had her on a lead and controlled her as best I could, but she was determined and the woman beat a hasty retreat. Not interested.
Two more came days later and Everly greeted each enthusiastically. But they persevered and Everly calmed down. She let them pet her, she gave kisses and she even went on a leash walk around the yard with each. They both pronounced her a sweet girl and are both interested in adoption. She has a couple more people interested in her. We'll see how those go before Dennis makes a final determination.
---
To be notified of updates, subscribe:
---
Want to help save lives?
Everyone involved with PMFC is a volunteer,
no donated funds go to salaries or benefits.
We are 501(c)(3) – EIN: 84-3593563
[give_form id="24755″]