Everly is a fun-loving young girl looking for an active family to play with. Her small size makes her well suited as a house dog.
Last updated: May 28, 2021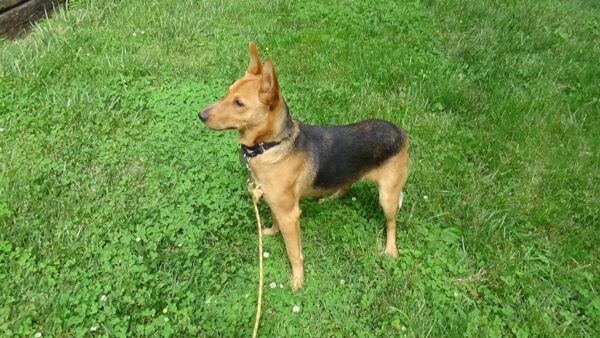 History
Base Information
Arrival date: May 22, 2021
Breed: German Shepherd mix
Sex: Female
Age: Youth
Birthdate: July, 2020
Weight: 28.4 pounds on May 10
.
Spayed: Scheduled June 15, 2021
General Health: Excellent (so far as we know)
Temperament: Active
SAFER Test performed: Yes – Passed
Departure date: Undetermined
Adoption Information
Submit a completed Adoption Application (Now an on-line, mobile friendly form).
If local, a meet-n-greet is encouraged. If you have another dog, bring it.
An adoption Contract must be signed by PMFC and Adopter. This is a legal document and an actual signature is required. If the form must be mailed back and forth, allow time for that to happen. Electronic PDF is allowed if you can print/scan.
If not local, adopter arranges transport. We frequently work with HEARTS LLC (fees are paid to the transport service) but have other options available.
Adoption fee is $200.00 This includes spay/neuter surgery, vaccination against Parvovirus, Distemper, Adednovirus, Rabies, and Bordatella and a thorough de-worming. This dog will be microchipped and the chip will be registered in the adopters name. Any health issues we found were addressed and are described below.
---
Progress Summary
Detailed notes are below the summary
Relational Behavior
Relates well to other dogs: Yes
Can eat food/treats near other dogs: Yes
Preferred style of play: She loves to run.
Is affectionate: Yes
Is good with:
. Men: Yes
. Women: Yes
. Children: Yes
. Cats: Given her GSD/Terrier mix, probably not, due to high prey drive.
Jumps up on people: No
Mouths: No
Walks well on a leash: Yes: pulls a little, working on that.
Commands
Comes when called: Yes, but not yet reliably.
Sits on command: Sometimes, if she feels like it. It's a GSD thing.
Down / Off: Not yet
Shake / Paw: Not yet
Kennels on command: Yes
Gallery
Progress Updates
May 22, 2021
She just arrived, we're all getting to know her. She is active and needs to learn her manners, but she it not at all aggressive toward anyone, even Blade who is doing his best to intimidate her. She just turns it into play!
---
May 24
Everly is loosening up a bit now and is becoming affectionate. She is not a barker – I can't say I've heard her bark yet. She cry a little when I put her back in her kennel after play, but settles down quickly. She has been absolutely quiet at night – a blessing since the kennels are right outside our bedroom windows and the windows are open at night right now.
---
May 28
Everly really wants to play with the others dogs. All the other kennel dogs, but especially Luna. Everly will go to Luna's kennel and shove her snout through the fencing to lick Luna's nose. It's so sweet. they'd probably be fine together but I want to wait until I have someone else here to help with "introductions" and managing their play until we see for sure.
---
More will be posted as we get to know this girl. To be notified of updates, subscribe:
---
Want to help save lives?
Everyone involved with PMFC is a volunteer,
no donated funds go to salaries or benefits.
We are 501(c)(3) – EIN: 84-3593563