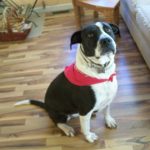 Kathy is very smart. She has learned the rules — and learned some ways to subvert the rules. For instance, when HairyFace gives us a treat or our bowl of kibbles, he has us do some small thing: sit, shake, speak, some little thing to acknowledge his leadership over us. He has been working with Kathy to sit on her blanket before he puts down her bowl of kibbles. She just looks annoyed at him, "Why? I'm going to eat standing up. Why would I want to sit only to have to stand up again." So he puts the bowl back on the table and turns to his own breakfast for a few seconds, then tries again. She then realizes that if she does not knuckle under, she won't eat. So she sits.
Recently she found a way to subvert this dominance thing: she sits when HairyFace starts handing out bowls so she's not responding to his command: it's her own idea. But he gets the upper hand anyway by asking her to shake. She thinks, "curses foiled again."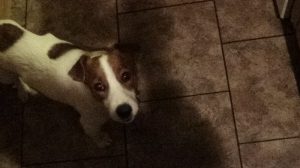 This morning Kathy was especially hungry and was encouraging HairyFace to be quick with breakfast. Being Wednesday, HairyFace cooks up something special, and that takes a little longer than oatmeal does. Kathy just couldn't wait and went hunting for a snack. Instead of settling in with a hoofie or chew bone (which is acceptable and encouraged) she found Hairy's rice thing on the floor next to the big bed.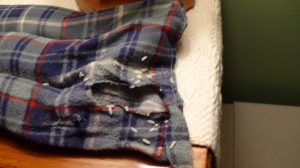 This is a special cloth bag that NiceLady made, filled with rice. They each have one. They warm them in the microwave then put them on their sore neck and shoulders — when needed. HairyFace needed his last night, but dropped it to the floor when he was ready to go to sleep. Kathy found it and decided the hard little grains of raw rice would make a good snack. She tore open the bag and scattered rice around on the carpet.
Lady caught her at it, scolded Kathy and expelled her from the bedroom.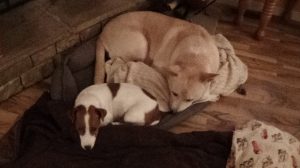 Kathy scampered out to find Blondie. She curled up in the snuggle bed with her hero and cried, "Lady said 'bad girl' at me, Blondie. That hurt my feelings!"
"What did you do?"
"I was just getting a snack."
I told Blondie what the little scalawag had done.
Blondie stood up and said, "I can't snuggle with a bad girl. We do not tear things up." and walked out to her blanket in the kitchen to await breakfast – which HairyFace was working on while all this happened.
Kathy thought on this until breakfast was ready. When HairyFace called us all to the table, Kathy trotted over and stood on her pink blanket. When Hairy said, "sit." she sat. We all had a pleasant breakfast.
HairyFace vacuumed up the spilled rice and everything went back to normal … except NiceLady made sure her rice thing was safely up off the floor.
---
| | | |
| --- | --- | --- |
| | If you enjoy our updates, Doggy Tales, and educational articles consider subscribing for notices when new pieces are posted. It's painless and you can unsubscribe any time you want. Your e-mail address is used ONLY to deliver these notices. | |