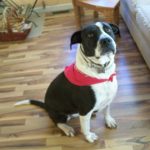 Kathy is our latest arrival in foster dogs. She is unusual in that she is the smallest dog we've cared for. She's a Jack Russell mix, so she's smart. Maybe too smart: she thinks, because she's cute, she's above the rules.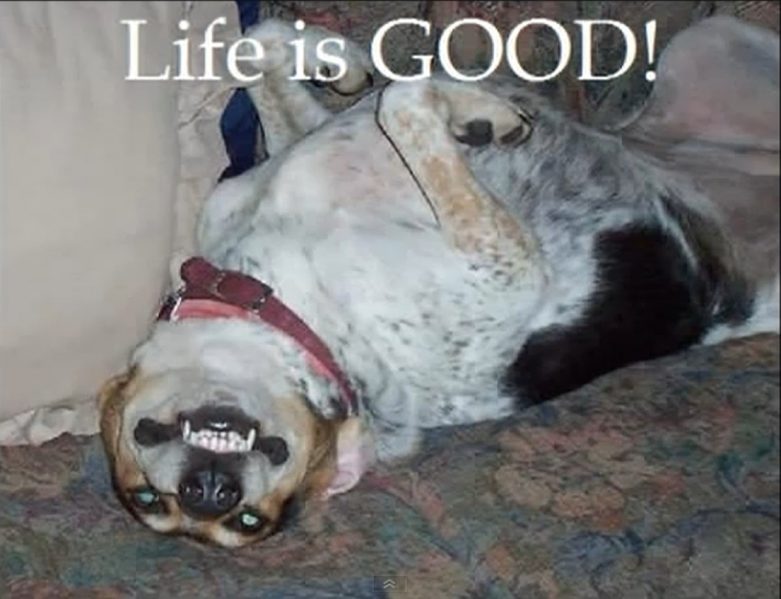 Since I've been here, No Dogs On the People Furniture has always been one of the rules. But it wasn't always that way. When I first got here Dolly was my mentor. Dolly told me that when they all lived in the old house — the one that is HairyFace's workshop now — she had her very own sofa to sit on and watch TV! That's amazing!
When they moved to the new house, which is smaller, they bought new furniture (and had less of it) and they instituted the dogs on the furniture ban. That never mattered to me: I was thrilled to be able to come into the house! And since they give us cushy blankets and doggie beds to lay on, I didn't mind not being able to get up on the sofa or their bed.  Neither did Blondie.  Before being rescued she was kept chained in a yard.  This is heaven compared to that!
But Kathy thinks, because she's little and adorable, she should be above our rules. And the Peoples are letting her get away with it! That's causing some hard feelings among the dog populace of this home.
If this won't play properly for you, try it at
YouTube
---
| | | |
| --- | --- | --- |
| | If you enjoy our updates, Doggy Tales, and educational articles consider subscribing for notices when new pieces are posted. It's painless and you can unsubscribe any time you want. Your e-mail address is used ONLY to deliver these notices. | |