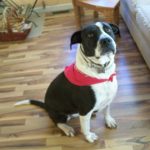 Ty is a true herding dog. HairyFace had to put a cone on him after his surgery yesterday. But, being extra bright, he learned quickly how to navigate and even use the dreaded thing to his advantage. I mean, besides ramming it into the People's legs at every opportunity so they can share his discomfort.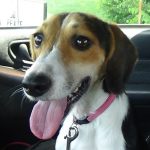 This morning we all went out for our morning run. Everyone but Josephine came back in. When she arrived, Ty went to the door with Hairy. The sight of old cone-head standing in her way was enough to spook Josie and she backed away.
Hairy encouraged her to come on in, but she would not. Hairy said, "Ty, help me out here…" he was going to say, 'go away so she can come in." But he scooted out the door, circled around behind Josie, scooped her butt up in his cone and pushed her in the door."
Hairy about died laughing!
-*-|-*-|-*-|-*-|-*-|-*-|-*-|-*-|-*-|-*-
Did you enjoy my Doggie Tale?  Would you like to receive notice when more go live?
Then please sign up for e-mail notification: it's free, easy, and non-invasive.
Really!  I'm a dog: I cannot lie.