Around 2:00 this morning Ty Steele, one of our foster dogs, woke us up.  I say "us" because he went from Marie's side of the bed to my side, back and forth, poking his nose into our faces.  We thought at first he was wanting to play and we encouraged him to go back to sleep.  He has been good lately about sleeping the night through.
But last night we had a going-away party for Ty because he's leaving on transport today (thanks to the good folks at Jefferson County Humane Society, who loaned Steele Away Home their big van when the one we've been using and had planned on using tomorrow was suddenly made unavailable to us).  The Oinky he enjoyed so thoroughly probably made him thirsty and he probably drank more than usual for late evening – maybe I'd better take him outside.
So I got up, put on my all-terrain house slippers and took Ty outside.  Sure enough: he needed to pee.  Quite a lot in fact.
Once back inside we found that Buddy Beagle had stolen Ty's sleeping spot.  Ty can't curl up in Buddy's deep-dish Buddy bed, so they could not just trade.  But Ty shrugged it off and decided there was plenty of room in Cochise's big bed, and curled up with him.  Cochise was okay with that.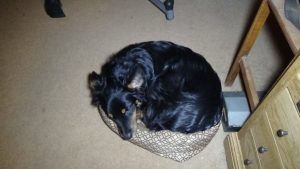 All was well, and we all went back to sleep until I got up at 4:30 to attend to my studies.  Ty, as usual, followed me out of the bedroom.  He went outside again, got his "stick treat" for doing so, then curled up in Josephine's Itty Bitty Beagle Bed and was calm and quiet while I studied.
I thought about how this mornings activity would have been different had Ty not been persistent last night.  Had he said, "Okay, I tried to tell you I need to go out.  You brushed me off, so what happens now is on you…"  But he didn't.  That's impressive.
Ty has made great strides in his house manners in the short time he's been here.  Ty is a Good Boy.
If you enjoy these Doggy Tales, and want to be notified when new ones go up, please subscribe to this blog. It's free, easy, and if you change your mind you can unsubscribe just as easily.