Sales of the peanut butter dog treats have been gratifying, and we've made 390 sales to date and contributed $1,179.00 in proceeds toward Steele Away Home's veterinary bills.  When compared to what the total vet bills have been for the past 14 months, $1,179.00 is not much, I'm sure, but that is over a thousand dollars that did not have to be raised some other way.  And, these treats are catching on.  Just today, a lady named Macey told me that her dog Chloe will not eat any other treats, now that she's hooked on these peanut butter cookies.  Many others have told me that their dogs love them too.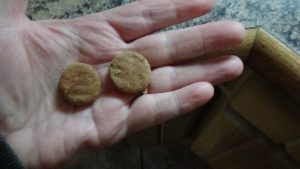 The original dog treat is about 7/8 inch in diameter and a quarter inch thick.  They come packed 40 in a food-safe, resealable bag.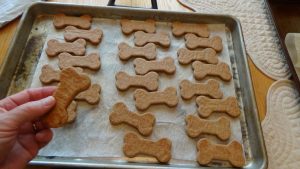 Comments from people who own large dogs and wanted a bigger treat led me to develop the Big Dog version.  This larger, bone shaped treat uses five times the amount of dough as a round treat and comes packed 8 in a bag.  Both versions cost $3.00 with all of that money going to the veterinarian bills for Steele Away Home Canine Foster and Rescue.
Recently, large dog owners have been asking about getting a bulk package and discount.  So I spent some time today baking up a double batch of cookies: all as Big Dog Version, and experimenting with packaging.  I could just use a gallon freezer bag, but that offers little protection against breakage.  Then I came across the perfect container: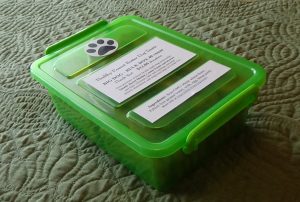 This nifty container is a food-safe plastic tub that just holds 40 Big Dog treats, it's sturdy enough to protect them, and is resealable to keep them fresh.  It's PERFECT!
40 Big Dog treats is the equivalent of 5 bags (which would normally cost $15.00) so I'm pricing the Bulk Box at $12.00.  For the moment these are a special order item because they take up a lot of counter space and I don't want to encroach on Cedarwood's front desk real estate that much.  Let me know when you need one and please give me a couple of days lead time because, believe it or not, I do have other things going on around here besides baking cookies and I like to send them out fresh baked.
So, what do you think?  Interested?  Please leave a comment below. Thanks!
UPDATE:
Delivering / Shipping Dog Treats
Some folks have asked if these treats are available for mail-order. We are now willing to try this with the bulk packs or groups of 6 pouches.
If you are with a rescue that is receiving a dog from us choose the Rescue delivery and the cookies will come with the dog at no added charge.
For local delivery, please contact me directly to place your order and pay with cash upon delivery.
All proceeds raised by The Julian Fund go to pay the veterinarian bills. This is an all-volunteer organization: no donations to the rescue are spent on staff salaries.  PMFC is a GuideStar accredited 501(c)(3) organization, therefore your donation is tax deductible as a charitable contribution.
| | |
| --- | --- |
| If you enjoy our updates, Doggy Tales, and educational articles consider subscribing for notices when new pieces are posted. It's painless and you can unsubscribe any time you want. Your e-mail address is used ONLY to deliver these notices. | |