Originally published Nov. 29, 2014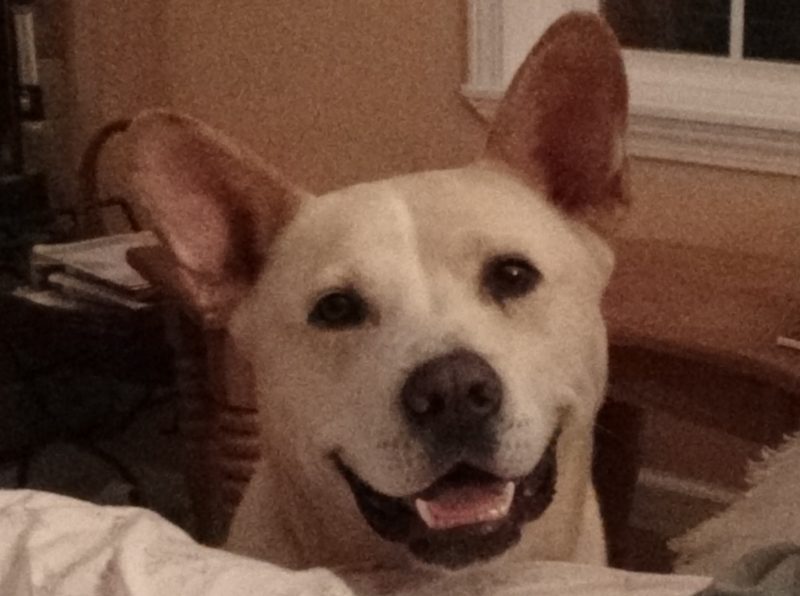 A report from Cochise on Blondie Bear:
The day after Thanksgiving, there was great excitement in the neighborhood: a UPS truck was parked out front AND a stray dog was running up and down the road all at the same time! Smokey and Lupa were barking and carrying on, other confined dogs on the road were barking and carrying on. We were running all over the yard barking this way and that. It was more than Blondie Bear could stand.
In desperation to escape and be part of it all, she found she could scale a section of The Great Wall of Edwina by reaching up with her forepaws, hooking the top plank with her rather ample claws, and boosting herself with hind feet claws snagging seams between the heavy boards. Doug got to the door just in time to see Blondie's butt going up over the wall and trot off toward the road. I would not have thought it possible: she's pretty chunky after all, but she did it. Of course she went absolutely deaf the moment she got over the wall and could not hear Doug calling her back.
Doug went out after her. It was a foolish effort, but he tried. She'd look at him when he got close, giggle and run off again. Finally she went down a steep slope toward a creek and a cow pasture beyond. Doug couldn't follow through the forest underbrush on that slope, so he came home. She was out for hours. She pranced through the yard several times, looking very pleased with herself. She was out carousing until Marie got home from shopping. The thought of seeing Marie and inspecting a truck-load of groceries was too much for her and she surrendered.
The next day Doug got to work thwarting that avenue of escape. He was going to add another level to the trellis, but Marie suggested just adding a shelf. He thought that over, modified the concept a little and made it so.
Blondie was not amused.
Escape route thwarted
---
| | | |
| --- | --- | --- |
| | If you enjoy our updates, Doggy Tales, and educational articles consider subscribing for notices when new pieces are posted. It's painless and you can unsubscribe any time you want. Your e-mail address is used ONLY to deliver these notices. | |