This is a foster dog diary post about Cinnamon. New information will be added to the end of this post so all info on this dog is kept in one place and in chronological order. If you subscribe for updates, a short note will be sent when updates are posted. If you don't subscribe, check back periodically to see what's been added.

Last Updated: Sept 2, 2019

Cinnamon has been bounced around from foster to foster because of behavior issues.  Now she's here at Piney Mountain to have those issues worked on.
Base Info:
Arrival date: Aug 15th, 2019
Breed: Red Heeler
Sex: Female
Age: Puppy, Young Adult, Mature, Senior
Weight: 62 Pounds
Spayed: Yes
General Health: Excellent, Good, Fair, Poor
Temperament: Calm, affectionate, I'm told she has separation anxiety: I have not seen that.
Gets Along with Dogs: Yes
Gets Along with Cats: Unknown.  Kills chickens.
Gets Along with People: Yes
Gets Along with Children: Yes, even toddlers.
Housebroken/Crate Trained: Not yet
Departure date: Sept 6th –> S.A.V.E.
History
Rejected by two other foster homes for behavior issues.  Otherwise I know nothing about this dog's history.
Progress Summary:
Detailed notes on this foster dog's progress are posted below the summary.
For a listing of Doggy Tails that include Cinnamon [click here].
Dog to Dog Behavior

Relates well to other dogs: Yes

Can eat food/treats near other dogs: No Warns them off with a growl if they get too close.


Dog to People Behavior

Is affectionate: Yes
Is good with:
. Men: Yes
. Women: Yes
. Children: Yes
Jumps up on people: No
Mouths: No
Walks well on a leash: Yes

House Dog Training

Willingly enters her crate: No Yes
Is calm/quiet while in crate: No Yes
Understands going outside to potty
No Yes

Alerts me of need to go outside
No Yes

Is destructive of bedding and/or toys
No Yes

Refrains from kitchen counter cruising: No Yes

Stays off people furniture: No Yes

---

Commands:

Comes when called: Yes
Sits on command: Yes
Down / Off: Yes
Shake / Paw: Working on this
Kennels on command: Yes

Cinnamon's Medical

DA2PP:  July 28, 2019 (SAH)
Bordatella: July 28, 2019 (SAH)
Wormed: July 28, 2019 Pyrantel Pamoate (SAH)
Rabies: July 31, 2018 (by)
Spay/Neuter: July 31, 2018 (by)
Heartworm Test: July 31, 2018, Neg (by)

Flea/Tick preventative:
. July 28, product?, 0.7 ml
. Sept 2, product?, 0.7 ml
Heartworm preventative:
. July 31, Nuheart, dose?
. Sept 2, ValuHeart, Lg Dog
Progress Updates
In chronological order, newest at the bottom. Some pictures are linked to a more detailed Doggy Tale about that update, click those to open the related story.
Aug 15, 2019
Cinnamon's former foster brought her to me late in the day and I needed to leave immediately afterward for an appointment.  Cinnamon gave me no trouble in crossing the play yard to the kennels.  I let her say "howdy" to her kennel mates, Sable and Blaze.  The plan was to have her bunk in with Sable.  I was told she was 40 pounds, she's 62 and much larger than Sable.  Cinnamon did NOT like Sable.  Wasn't crazy about Blaze either.  But then she was newly arrived and these two were not being as friendly as they could.
I had to hastily make other arrangements for her containment while we were away.  Former foster #1 said Cinnamon would destroy a crate if left alone in the house.  So that was not an option.  Former foster #2 said Cinnamon had ripped holes through two chain-link kennels to get out and kill her chickens.  So even if Sable or Blaze seemed like a good roomie situation, the chain link may not hold her.  So I put her in our max-security cell which is armor plated on the lower two feet.  When we got back home that night, Cinnamon was still where I put her, so that is working.  But that kennel had been promised to a shelter dog at risk of being put down.  This was an emergency situation that may cost another dog its life.
Aug 16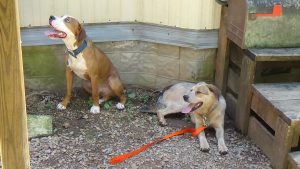 Cinnamon met the house dogs this morning and I introduced her (face-to-face) to Blaze this afternoon.  Those intros went well.  She no longer has harsh words for Sable either.  She loves playing with Blaze, they had a grand time running in the yard together while I was cleaning their kennels, then hanging out in the shade when they got tired.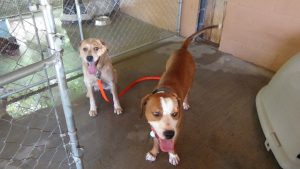 She also decided she likes Blaze's room and asked if she could bunk in there with him.
After I secured Blaze, I took Cinnamon for a leash walk.  She did well, so she gets her gold star for that skill.  She even went back into her kennel all on her own for a rest when we were done.
Aug 17
Cinnamon played with Josephine and Callie today.  At first Josie was hesitant because Cinnamon is twice her weight and three times her size, but Cinnamon was careful and these two played well together.
When Callie joined the game, she would charge in and bump Cinnamon with her chest.  Cinni would go stiff and fall over like one of those fainting goats, "I'm dead, you killed me".  It was hilarious.
Aug 19
While cleaning the kennels I let Sable out first to run around solo.  When I got her kennel scrubbed out, and the dog house and dog bed scrubbed, and the disinfectant down on the floor, I let Blaze out to play with Sable so I could work on his room while the disinfectant worked in Sable's.  When Sable's room was done, I put her back in and let out Cinnamon to  play with Blaze, planning to put Blaze away when his room was ready and give Cinnamon some solo time.  But when I called Blaze, he and Cinnamon came galloping over and ran into Blaze's room.  I figured they both wanted a drink of water and Cinni would come back out afterward.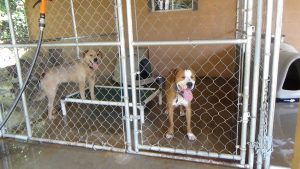 But no, she settled in on Blaze's bed and said, "I'm staying here with my friend."  Blaze seemed okay with that, so I closed and secured the door.  Once I got the disinfectant down on Cinnamon's floor I headed out to do a yard pick-up while it did it's thing.  While I was out I heard Cinnamon yipping.  Blaze gave out one loud, annoyed "WOOF!", Cinnamon yipped some more, then it got quiet.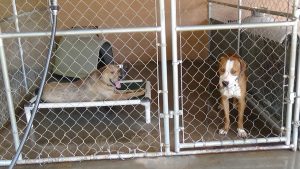 When I got back to the kennels, I found Blaze standing at his door giving me a look: "Let me out, Doug, she's being greedy."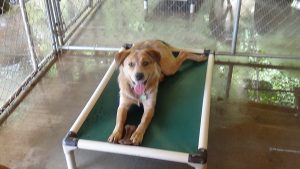 Cinnamon had grabbed Blazes bed AND his chew toy and wasn't going to share.
But, there were no hostilities, just hurt feelings. Poor Blaze!  He's just trying to be hospitable and this eye-batting cutie-gal is taking advantage of him!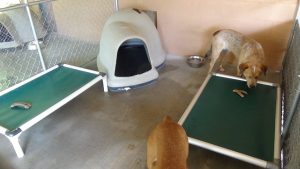 During the afternoon play session I moved Cinnamon's bed and toy into Blaze's room, but on the opposite side of the room.  Now they each have a bed and a toy.  The beds should work out, but it may well be that both toys will end up under Cinni's paws.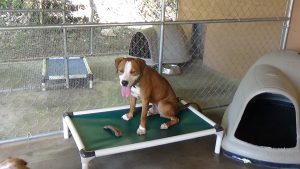 Blaze says, "MY bed.  MY toy. You just stay on your side of the room, girlie."
This may not work out and I'll be moving Cinnamon back into her own room, so we're NOT hanging out the vacancy sign just yet.
Aug 27
Cinnamon has her room to herself again.  Martin: the guest who was staying in Blaze's (mostly unused) kennel is gone on to his forever home now and Blaze has a "room" when he needs it.
I let Cinnamon play with Sable last week.  That was a mistake.  Sable plays hard. Cinnamon picked up on that and carried that style of play into her play with Blaze after I put Sable up.  Blaze didn't like that. He plays with Sable that way, but Sable is considerably smaller than Cinnamon.  Blaze got defensive and they got into a tiff. Everyone went to solo-play for the rest of the week. They are doing better now.
| | | |
| --- | --- | --- |
| | If you enjoy our pupdates, Doggy Tales, and educational articles consider subscribing for notices when new pieces are posted. It's painless and you can unsubscribe any time you want. Your e-mail address is used ONLY to deliver these notices. That's a promise! | |