Ugg and Blue got their baths and nail trimming this afternoon. I find that right after their bath is the best time to trim nails. Having been defeated by my making them all wet, even the toughest dog knuckles under and says, "Fine, do whatever you want to me."
Afterwards I put a lead on each and took them out in the play yard together for the first time.
I kept hold of Ugg's lead for a while because I figured if either was going to get out of control, it would be this big rowdy boy. But Ugg did fine and eventually I dropped his lead and let them play without my being an anchor, slowing Ugg down.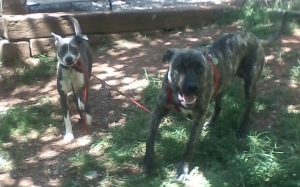 Blue immediately seized on the opportunity to mess with Ugg by grabbing up the lead that was dragging along behind him and attempted to force Ugg to go with him.
What a brazen little boy! Ugg weighs three times what he does.
Blue kept insisting on playing that little prank, so eventually I took the lead off Ugg. If Blue wanted to lead someone he'd have to lead himself … and he has done that (pick up his own lead and walk around with it in his mouth) quite a few times!
The two of them wandered off together. Neither showed any interest in playing, but they enjoyed one another's company.
Eventually Blue found a ropey toy, showed it to Ugg and ran off. Ugg accepted the challenge, but when he got near Blue, Blue turned nasty and started snarling and snapping at Ugg. Ugg was shocked.
I snagged Blue and whisked him immediately and unceremoniously back to his kennel, where he stayed while Ugg and I finished up our play session. Dogs who can't play together can't play at all. He will get a solo play time later, but he's done with group play for today. Tomorrow he may try again. When he learns to control that greediness he'll be a happier, and better behaved, boy.
| | |
| --- | --- |
| If you enjoy our updates, Doggy Tales, and educational articles consider subscribing for notices when new pieces are posted. It's painless and you can unsubscribe any time you want. Your e-mail address is used ONLY to deliver these notices. | |