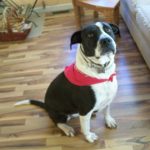 In our house the peoples have a rule about no dogs on the people furniture. It's not much to ask since they only have a sofa, an easy chair and their bed (and some hard chairs that are too small for us to curl up on even if we wanted to – which we don't). We each have a snuggly dog bed. In fact we have more furniture than they do.
First are a pair of thick pads in the living room in front of the fireplace. These used to be in HairyFace's office over in the workshop, and that was nice when we spent most of our days over there with him. When he stopped spending his days there, he brought them home for use in the "heavy traffic" area.
We also have snuggle beds in the bedroom. These are nicer and when the weather is sloppy, Hairy closes the door to keep dirty feet off the carpet and the good beds. NiceLady recently bought us new dog beds: super-cush beds with memory foam pads. Hairy took one of the old beds into the den where his desk is. I like to lay on the carpet in front of the space heater, Blondie wanted a snuggle bed to lay in. Now we're both happy. The other dog bed got put away in a closet.
Volt has been spending most of his time indoors with us. He has a polar fleece blanket folded up so it's thick and soft. That's in his crate. Volt has been exceptionally gentle with his blanket: he doesn't even wad it up like Roger did. Roger liked to wrestle with it. He wasn't being destructive, just amusing himself.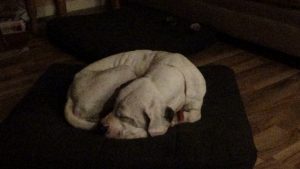 When all three dogs are in the living area there are only the two futon pads for us to lie on. Hairyface would pull Volts blanket out, but that's still sub-par with our pads. And since no attempt is made to keep Volt from lounging on a futon, sometimes Blondie or I would get stuck on Volt's blanket. So Hairy started bringing Blondie's bed out of the spare room.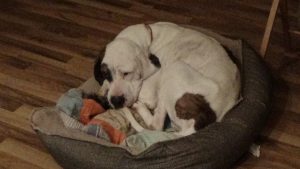 But when Volt decided he wanted the snazzier bed, Blondie got bent out of shape! So did I for that matter. Here it is just three days since he arrived and not only is he in the house but he's claiming our beds!
Because Volt is so gentle on his bedding, the Peoples decided to put the other older bed in his crate instead of the blanket — and it could be pulled out for use when he's not being crated. Blondie thought that was pretty cush!
But Volt wasn't ready to retire yet so Hairy pulled the bed out and Lady added a small blanket. When Volt gets to where he can resist invading other dogs dishes at meal time, this blue blanket will be put around the table with Blondie's pink one and my brown one as our place markers for dining. By sleeping on it now, he will come to know it as his.
It was late by this time and Volt was ready for bed — once he had a chance to go outside for a potty break. Before that he was in his crate but barking and making SUCH a fuss! He knew he needed to go out. Once he got his request attended to he was fine and slept soundly all night.
In the morning Hairy pulled the bed out for Volt to rest on — but Blondie claimed it:
This was resolved once breakfast was ready and HairyFace put Volt back in his crate to eat.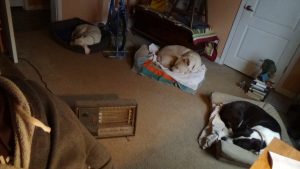 After breakfast we all saw NiceLady off to work and Hairy took Volts bed to the spare room where Blondie's day bed is and he brought my night time bed in from the bedroom so we all had a snuggle bed to rest on while he wrote and made videos.
We spent the whole day either here with Hairy, in the living room playing with chewies, or outside enjoying the sunshine (when it came out). Volt has not been crated ALL DAY LONG! He's being a very good boy.
---
| | | |
| --- | --- | --- |
| | If you enjoy our updates, Doggy Tales, and educational articles consider subscribing for notices when new pieces are posted. It's painless and you can unsubscribe any time you want. Your e-mail address is used ONLY to deliver these notices. | |