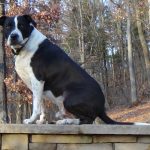 HairyFace made a trash run today, so Blondie and I got to go along. I rode shotgun (of course). Hairy won't roll the window down enough for me to stick my head out, but he turns the vents up on high so I can get a good sniff of what we're driving through. There's always so much to see.
Blondie rides behind the seats. She gets an open wing window on each side and she can watch out the front and back as well as the sides, so don't go feeling sorry for her: she likes the ride too.
At the end of our nice long truck ride we will be at this place called a Convenience Center. Hairy says they call it that because it makes it easy for peoples to dispose of their trash. I don't know why you don't just eat it: I would.
Anyway, when we get there Hairy gets out and takes some of the trash from the back of the truck and puts in this container, and some in that container and still more of it in that thing over there. He calls it RECYCLING. I have no idea what that means, but he seems to think it's important. He's pretty smart, for a Peoples, so if he thinks it's important, then I say you should think it's important too.
There's always lots going on here. And sometimes one of the other peoples here will come over and scratch our heads (Blondie and I, not Hairy … that would be weird) and tell us what fine looking dogs we are. That's one of the things I like best about our Saturday morning truck rides. Another thing is that it smells so GOOD here!
---
| | | |
| --- | --- | --- |
| | If you enjoy our updates, Doggy Tales, and educational articles consider subscribing for notices when new pieces are posted. It's painless and you can unsubscribe any time you want. Your e-mail address is used ONLY to deliver these notices. | |