Hudson
Hudson is unchanged.  Still gentle and affectionate with me, still playful and amiable with Blondie and Sable.  The only incident I've had with him was on Wednesday: I was carrying a bag of kibble from the bunkhouse to our house while Hudson was getting his play time.  He was running big lazy loops around the yard, as he likes to do.  As I came up the walkway behind our house Hudson went zooming past me and around the corner.  When I rounded the corner, I expected to see Hudson on the back porch sniffing at the door.  He wasn't.  In fact he was no where in sight!
I found him up on the high yard on the other side of the retaining wall.  He had managed to zoom up the steps and leap over the wall!  He has become quite the jumper!
To his credit, he came to me when I called him and I got him back into his kennel without trouble.  But now that he knows he can do this, he will do it again.  Since he only has a couple of days left here, he will just stay in his kennel.
And I've added "Make the wall higher" to my To DO list.
Hudson left on the Friday (Jan 18) rescue run.
Go to Hudson's Summary Page
Sable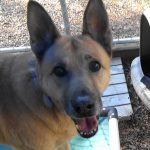 Sable has become less interested in playing with Rebel now that he is filling out and getting stronger.  She still shows interest, but when I let her out and he starts wrestling with her, she wants back in.
OOPS: I have to rescind that statement.  I let Rebel out to play first today and Sable was bouncing and pawing in an obvious desire to get out and play with Rebel.  So I let her out and she did a respectable job of rough-housing with him.  When she got tired she worked her way back to me and gave me The Look: the one that says, "I'm done, please get him off me."  But it all went very well.
She is till loving and gentle and obedient with me.  I *really* like Sable.
Sable was on the rescue run heading out January 18th.
Go to Sable's Summary Page
Rebel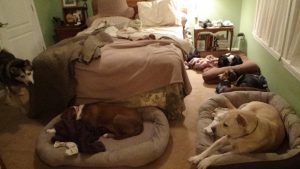 Reb has been sleeping in the Room of Beds with the rest of us this week, and doing excellent.  He settles in by 10:00 pm (or earlier if he's had a busy afternoon) generally sleeps through the night.  He is not bothered by my getting up at night to use the bathroom or let another dog out to pee.  We both wake up around 5:00 and are ready to get up.  I have been leaving him loose to follow me around as I go about my early morning routine, and he's been well behaved.  The only issue we have is when other dogs get up and want to go out, he wants to beat them out the door and that intimidates them.  I have to secure Rebel when the rest begin their parade to the great outdoors.
Go to Rebel's Summary Page
Lennon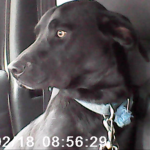 On Wednesday I picked-up Lennon from Newport Animal Control and took him to be neutered.  The vet also found mange (she thinks dermodectic but can't be sure without a skin scraping) and signs of hip dysplasia, which can probably be treated with glucosamine.
His surgery went well and I equipped him with a cone when I took him back.  He will bunk at NAC until Monday the 21st when I'll have open space for him.  I've made an appointment at Cedarwood Veterinary Hospital to have his mange checked and get a hip x-ray.
Go to Lennon's Summary Page
Lucy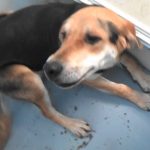 Lucy is a stray found along side a road and brought to Cedarwood, who got in touch with me to see if I'd foster her.  I went to meet her.  She is young and energetic, but quite sweet and submissive in her behavior toward people.  I think she'll do fine here.
I can't bring her in until Rebel leaves.  When Sable and Hudson depart, Lennon and Max will be coming in to take their places.  Lucy has to wait for Rebel to depart and make room for her.
Max
I have arranged to meet Stacy to pick up Max from his owners on Monday afternoon, after I go get Lennon.  I don't know much about Max yet.  Look for details on him next week.
(UPDATE) Max will is not coming, Max's owners have decided to keep him.
Instead I'll be getting Tiny.  All I know about her is that she is not tiny and has been living in a 5'x 5′ kennel with another dog and the floor of the kennel is such a filthy mess that the dogs spend most of their time on top of their dog houses.  Stacy and I will pick her up Tuesday.
Tiny's owners cancelled too … so I'm getting Selma