First off, I got word today that Hudson has been adopted. The message posted was:

"Hudson Steele, a perfect southern gentleman who stole my heart – I mean look at the brindle beauty. His new parents arrived at Roxbury yesterday, just to look. They recently lost their beloved pet and weren't sure they were ready. After talking to them for a little while and trying to help them realize that they weren't replacing, they were helping another soul, they made Hudson, now Enzo their new family member. I was lucky that I was able to visit him today in his new home to drop off something we forgot to send home with him. I am thrilled to tell Jenifer Parry Steele and Doug Bittinger that the front of his new house overlooks a lake and he slept on their bed last night. He hit the lottery!!!!"
More on Hudson
Rebel
Rebel continues to polish his house dog skills and learn self-control when playing with other dogs.  He is also quite taken with Selma.  He spends much of his time sitting or laying beside her crate in an effort to comfort her.  I do believe it's working too.
Rebel is spending more and more time as a free-range house dog.  Giving him yogurt with his breakfast helps keep his innards working properly and he continues to gain weight.  He is ready for adoption.
Back to Rebel's Summary Page
Selma
Selma is coming along. Her main issue is separation anxiety that turns violently destructive if she's left alone. I've been working on that. Normally I keep her crate in whatever room I'll be in — or Marie will be in, as long as one of us is in sight she's okay.  Gradually we start leaving the room for short periods, then slightly longer periods.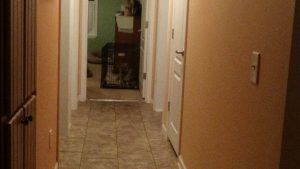 Last night I put her crate in her spot in the bedroom before she came inside for the night. Then I spent the evening waving and speaking to her as I went from den to kitchen to living room, but not actually staying in the bedroom with her. She knew I was in the house, but could not see me most of the time.  She did well, even during extended absences. A great first step.
Selma is doing really well at night.  I take her out around 8:30 pm and she will sleep through the night, not needing to go out again until around 5:30 — when most of the dogs are beginning to stir as well.
And I no longer have to have her on a leash to go out, she reliably comes when called, and is not wont to stay out in the cold long anyway.
Go to Selma's Summary Page
Lennon
After 3 hours at Cedarwood with Lennon Thursday evening, the verdict was in: Demodex Mange and the head of his right femur is necrotic: probably the result of a previous injury. Since his knees are perfect, probably not hit by a car. Someone kicked him or hit him with something hard enough to dislocate his hip. when it popped back in part of the "ball" of his hip joint scraped away.  That has been decaying since.  It does cause him some pain. Short term, it can be treated with glucosamine condroitan and turmeric. Long term the femur head needs repair or the leg taken off.
We at Steele Away Home are working on a fund raiser and Dr. Sandra will send x-rays and talk to Dr. David T. Crouch at Western Carolina Veterinary Surgery (http://www.wcvs.org), who specializes in orthopedic surgeries, about giving us a reduced rate for Lennon so we can save his leg.
Failing that, Lennon would adjust to being a three legged dog, but we'd rather save it if we can.  The web addresses for the fund raisers are:
Go to Lennon's Summary Page
| | |
| --- | --- |
| If you enjoy our pupdates, Doggy Tales, and educational articles consider subscribing for notices when new pieces are posted. It's painless and you can unsubscribe any time you want. Your e-mail address is used ONLY to deliver these notices. | |