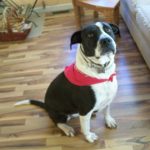 On most days NiceLady leaves us a little after breakfast and goes on a long car ride that lasts the whole day … until just before dinner time. We miss her terribly while she's out having fun.
HairyFace stays with us to keep us company and open the door for us when we need to go in and out. And to give us lunch cookies. And to scratch us and pet us when we need it. He does some other strange things during the day, but mostly he's here for us to look after him and keep him safe while he does those little trifles for us.
On Sundays they BOTH leave us at home by ourselves and that's really awful. But that's not all day, just long enough to get a good nap in.
When NiceLady has been gone all day we get excited about her coming home.
Sometimes it takes her a while to come in and we get impatient, but we're always happy to see her.
| | | |
| --- | --- | --- |
| | If you enjoy our updates, Doggy Tales, and educational articles consider subscribing for notices when new pieces are posted. It's painless and you can unsubscribe any time you want. Your e-mail address is used ONLY to deliver these notices. | |