Originally published May 10, 2016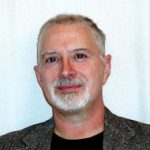 How dogs deal with heartworm treatment aftermath varies considerably, depending on several factors.
Severity of worm infestation. A low-count infestation will have less effect on the dog as the worms die and potentially cause problems.  A high-count means more dead worm tissue in the blood stream and a higher likelihood that the heart has sustained damage from the worms chewing on it.
The dog's temperament. Dogs, like people, deal with sickness or pain differently: some are wimps and will cry and moan over every little thing, others are stalwart and seemingly ignore discomfort. Most are somewhere in between.
How well the treatment went. If a dog jumps or lurches during the injection, it leaves a bruise in the muscle that is very painful – and it requires that the injection be repeated in a slightly different location because the bruise will allow too rapid absorption of the Immiticide. The injection must be done intramuscular to slow the absorption rate.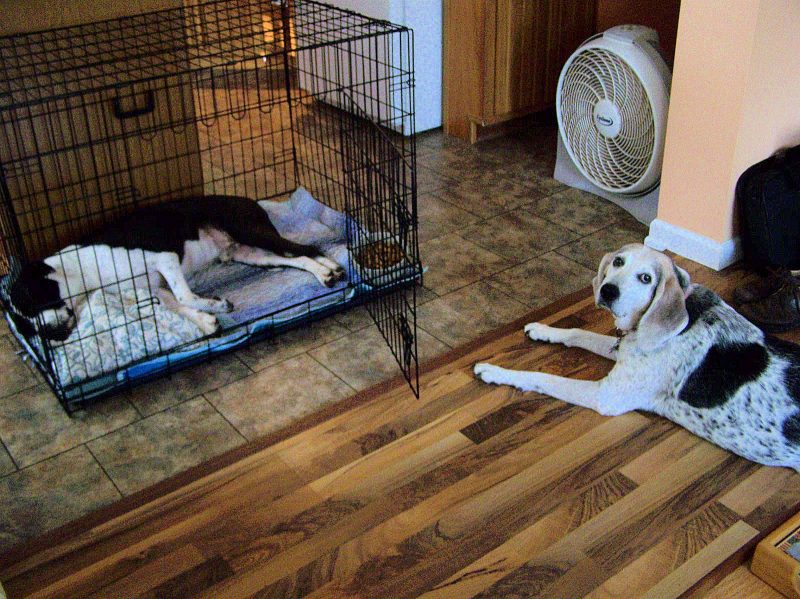 Some dogs we've cared for were hardly slowed down at all, while others (like Cochise) were hit hard. It took him a week or more to get over the nausea and pain. Most are stiff and sore in their lower back and hips for one to three days, then bounce back quickly.
This is actually more dangerous than one who convalesces for a while because it is vital to keep the dog on crate rest for a minimum of two weeks. High levels of activity cause increased heart rate which causes an increased chance of dead worm matter breaking loose from the heart, lodging in the capillaries of the lungs and causing a lesion or embolism in the lung. This can be fatal. The dog must be given time for his body to absorb the dead tissue before they become active again.
Volt's Heartworm Treatment Aftermath
Because Volt was underweight, Dr. Conklin decided to use an extended-kill method with him. This takes longer and is more expensive, but is easier on the dog. Volt went in for his final treatments yesterday and today. Yesterday went well and he experienced little discomfort. He felt a little yucky this morning, but that was all. Today (we suspect) did not go so well.
He's got a visible lump on his back where the injection would have been given, so we suspect he twitched and tore a bruise in the muscle. He's also quite uncomfortable:
And here we are, out of Tramadol. I gave him a baby aspirin. At 71 pounds, Volt could probably have two, but we'll try one. Maybe we'll do two at bed time so he gets a good nights rest. He should feel better in the morning.
A low dose of aspirin is safe for large dogs for short term use (like a day or two) for pain, when advised by your veterinarian. Do not use if the dog is taking Prednisone. Generally, a dog 50 to 100 pounds can have one regular aspirin tablet twice a day — SHORT term. Aspirin causes gastric bleeding if over-used. Baby aspirin is straight aspirin but in a lower (81 mg) dose. Tramadol is a better option, but it requires a prescription and is pricey. Do not use Tylenol.
Tylenol is Acetaminophen. Acetaminophen, which is not an NSAID, is poisonous to dogs. Typical symptoms of pain killer poisoning include difficulty breathing, vomiting (can be a good thing), change in coloration of the gums, jaundice (a sign of liver damage), and a change in body temperature, among others. Do not use Tylenol on your dog!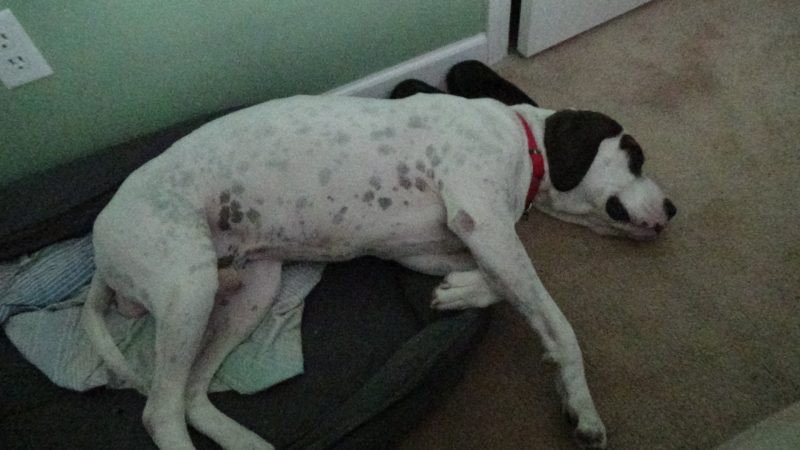 An hour after I gave Volt the baby aspirin he was able to rest. He was not sleeping, but could lie still and rest without whimpering and shifting around. I tried to make him comfortable in the den with the rest of us, but he preferred to suffer in solitude and went to the bedroom. He did appreciate an occasional belly rub.
After another hour he came and got me to tell me that he needed to go outside. I took him out (without a leash this time: the last thing he wants to do right now is run) and he went as far as the very first patch of grass to take care of all his business. I cleaned up after him (since this was in a major traffic pattern) and he was waiting for me at the back door.
The First Night
When I dish up kibbles, Volt always comes to supervise. At first he was hoping I would drop some (or he could grab some) and I had to close the door to keep him from raiding the kibble buckets as I opened them. When he learned to control himself, I started giving him a kibble or two as a treat for his improved behavior.

That evening, Volt did not come to the door of the Kibble Treasury when I began scooping kibbles into dishes. He was dozing just across the hallway, and that was more important to him than a snack.
As dinner preparation was about concluded and ready to serve, Volt did come out of the den (it did smell good). We decided to try letting him eat on a blanket beside the table like Cochise and Blondie do. Volt has been getting fed in his crate because he will wolf down his own food then try to push Blondie out of her bowl as well. And she is mild tempered enough to let him do it. She will give him a "How rude!" look, but not fight him over it. Tonight, he's not feeling all that pushy, because of the heartworm treatment aftermath.
He did well. He ate much slower than normal, then went and sat behind my chair and waited. When Blondie and Cochise finished their dinners, all three wandered off to lie down and let the meal settle.
I woke him from his nap to take him outside so he would sleep through the night. He wasn't thrilled with that, but he complied, squatting like a girl-dog because raising a leg hurt too much.
When bed time arrived, Volt was crashed in the den. I asked him if he wanted to join us in the bedroom, but the only response I got was a brief, groggy, one-eyed, glance.
Normally we insist on it because it's easier to track his whereabouts. He has tried at least one Midnight Caper while we slept. But I didn't think he'd be up to any mischief this time.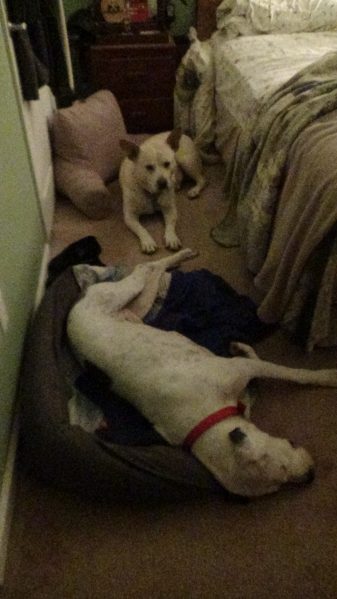 Volt woke Marie at 12:30 am when he got up to wander restlessly. He was in pain again. Marie gave him another baby aspirin and he settled into his bed in the bedroom. Blondie moved from her bed to the floor next to him to be nursemaid. She stayed there all night.
At 6:00 most of us got up again. Volt seemed comatose – and caused me some concern – but it turned out he was just unwilling to leave the Nirvana of slumber. We can all understand that!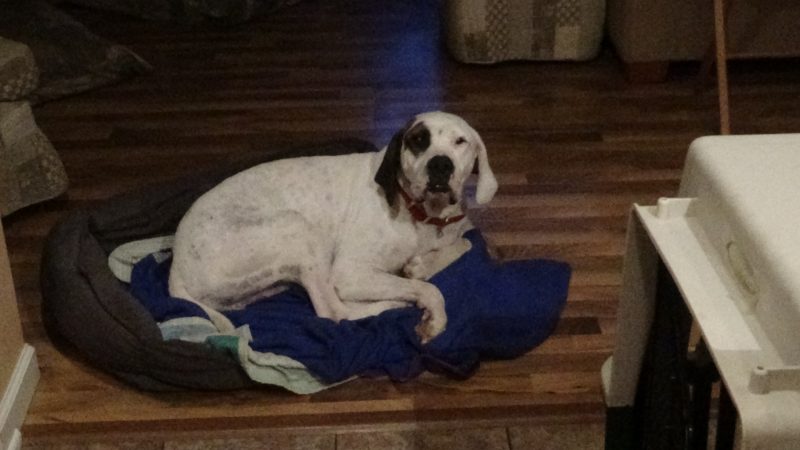 Cochise stood in for Volt as kibble inspector when I dished up doggie breakfast. Once I got the bacon and eggs going, Volt was up and sitting in the living room watching. He was more animated this morning. Enough so that he was served breakfast in his crate again.
After breakfast we went outside and he again squatted to pee. Then he settled in with us in the den and went to sleep. He is still sore, but not so sore as to need pain meds to sleep. That's good. He's bouncing back already. I'll let him sleep as much as he wants, that's the best way to heal.
The Outlook
Volt is a laid-back hound dog. Keeping him calm for the next few weeks will not be the challenge that it is in a high-energy dog. Still, I'll use a leash to take him out for potty breaks, once he's not suffering so.
Once he's feeling better, we will have to take him on another trip to Tractor Supply just to be sure he does not come to associate truck rides with bad things happening to him.
Volt is a sweet, good-natured dog, he will be fine. It's just going to take a few days to get past the rough part of heartworm treatment aftermath.
---
| | | |
| --- | --- | --- |
| | If you enjoy our updates, Doggy Tales, and educational articles consider subscribing for notices when new pieces are posted. It's painless and you can unsubscribe any time you want. Your e-mail address is used ONLY to deliver these notices. | |