It was a chilly but sunny Saturday morning with no rain or high winds predicted for the day.  It seemed like a good day to work on the first step in Phase One of our Kennel Upgrade project.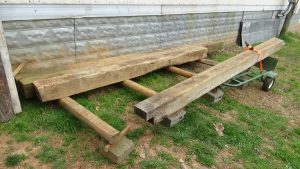 Phase One, Step One is to move a lumber pile out of the driveway so the concrete truck can get close enough to the kennel location to discharge it's load into the forms.  I have been working on that the past couple of days.  This photo was just the start, about half the pile is moved now.  I'll finish that up in the coming week.
Phase One Step Two is to dismantle Kennels #1 and #2.  Today I want to strip the roofs off of these kennels.
All three kennels are in the way of where the concrete slab will go (See: Big Doins article) so they have to be moved.  Now that Selma and Lucy have gone to New Jersey, #1 and #2 are not in use.  The tricky bit here is that the kennels form part of the perimeter fence that keeps the dogs in the yard.  Were I to simply take them apart, the dogs would have to be walked on leashes any time they came outside, and running and frolicking would be right out of the question.  Since this could take a little while to accomplish, I need an alternative plan.
Obviously I went a bit farther than I planned to go today, but it was going well and I was feeling good and decided to just keep at it until I got this step done.  There is lots more work to do: digging out the landscape timbers that formed the foundation under the kennel panels, scrubbing and storing the dog houses and beds, and of course I still have to move Lennon's kennel.  That's Phase One Step Three.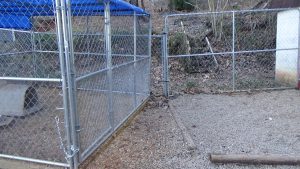 One corner of this kennel is inside the area that the slab will cover.  But even if it were a couple of feet further back and clear of the slab, when Bob smooths the concrete he will probably use a long handled float.  That long handle will need some room to work with, and this kennel being in the way will be a hassle.
But because of the way this one is built (my most advanced design), it will not be a simple matter to dismantle it, move the parts, and put them back together.  It would be better to move the kennel intact.  I'll detach it from its foundation of 4×4 timbers, but the chain link panels and roof will remain clamped together — unless it is simply beyond my strength to move it as an assembly.
I left "containment" around the work area because I will be opening the temporary fence to get kennel #3 where it needs to go, and because there are gaps under the temp fence that might encourage dogs to try digging out.  I'll block those with the timbers I remove from kennels 1 & 2 foundations.  Removing the three remaining panels from the work area will be a simple matter and can be done the day before Bob arrives to set up forms.  Until then, they are insurance.
| | |
| --- | --- |
| If you enjoy our updates, Doggy Tales, and educational articles consider subscribing for notices when new pieces are posted. It's painless and you can unsubscribe any time you want. Your e-mail address is used ONLY to deliver these notices. | |