Dogs love cheese, so even the most discriminating dog ought to love these cheesy dog treats. Because they're homemade and you will choose the ingredients, you know they contain nothing insidious — something you can't be sure of with commercial treats. They're easy to make, too! Because they're made with real cheese they add protein to your dogs diet, but they ARE treats: so dispense responsibly.
Ingredients
1/2 cup shredded cheddar cheese
1/2 cup shredded Parmesan cheese
3 tablespoons vegetable oil
1 1/2 cup whole wheat flour
1/2 cup + 1 Tbsp low fat milk
Preparing Cheesy Dog Treats
Preheat oven to 350 degrees F. Line a baking sheet with parchment paper.
In a large bowl, mix cheeses with oil. Stir in flour gradually until blended. Mix in milk and knead until dough comes together.
Roll dough on a lightly floured surface to 1/4 inch thickness,
Cut out treats using a cookie cutter or juice glass (or just cut the dough unto squares with a pizza cutter, if you're lazy).
Gather the scraps into a clump and repeat 3, 4, and 5 until all dough is used.
Bake for 30 minutes, or until treats are golden brown.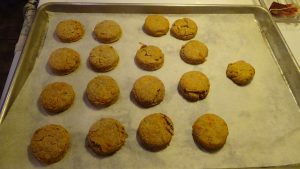 Makes 16, 2 inch diameter treats (plus that little oddball bit). Using a smaller cutter makes more treats. The 2″ are perfect for out big bullies, smaller are better for the Beagles.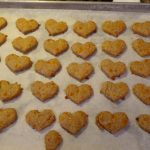 These cute 2″ x 1.5″ hearts turned out to be a great compromise. And I got 30 of them per batch.
Allow your cheesy dog treats to cool thoroughly before serving to your furry friend(s). After they've completely cooled, store in a zip-lock bag or a jar. They'll be okay at room temperature for a day or two, because there are no preservatives, keep the bag in the fridge after that (if there any left) to prevent mold. If you're real stingy, freeze them for long-term storage.
Because the dough is quite stiff, if you want to make more at one time, make several batches instead of doubling the ingredients and making a larger batch.
This is what our Quality Assurance Board thought of these:
---
| | | |
| --- | --- | --- |
| | If you enjoy our updates, Doggy Tales, and educational articles consider subscribing for notices when new pieces are posted. It's painless and you can unsubscribe any time you want. Your e-mail address is used ONLY to deliver these notices. | |