Peppa had the misfortune to be born deaf, thus difficult to adopt despite being adorable.
Last Updated: Dec 25, 2021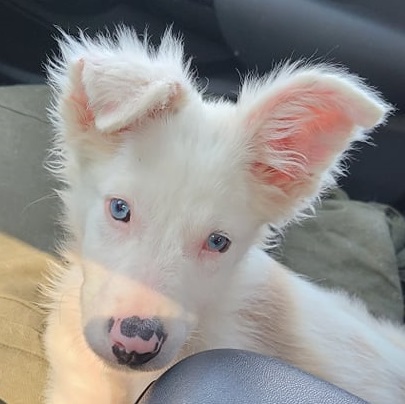 History
Peppa is one of three 12 week old puppies that were owner surrendered as unwanted and ended up at the Sevier County Humane Society. They are all adorable and her brother and sister were quickly adopted. But not Peppa, because she was born deaf and needs a home that will work with her and her special needs. SCHS reached out to Piney Mountain Foster, to get this girl out of the shelter environment. We agreed. We then reached out to A Pathway To Hope in New Jersey who found a suitable foster home and agreed to take this sweet girl once she is healed up from her spay surgery enough to travel. They will work with her to get her ready to be adopted into a loving home.
Base Info:
Arrival date: Oct. 11, 2021
Breed: Australian Shepherd
Sex: Female
Age: 12 weeks
Birthdate: July 19, 2021
Weight: 10.0 pounds on Oct 11
………..
Spayed/Neutered: Yes, Oct 11, 2021
General Health: Good
Temperament: Playful, affectionate
SAFER Test performed: Yes: Passed
Departure date: October 14, 2021
Adoption Information
Adopted
Progress Summary
Detailed notes are below the summary
Relational Behavior
Relates well to other dogs: Yes
Can eat food/treats near other dogs: Undetermined
Preferred style of play: Undetermined
Is affectionate: Yes
Is good with:
. Men: Yes
. Women: Yes
. Children: Yes
. Cats: Probably
Jumps up on people: Yes she's a puppy in need of training.
Mouths: Yes she's a puppy in need of training.
Walks well on a leash: No
Gallery
Progress Updates
Oct 14
Dec 25