We've taken in two new pack members this week, and are planning another facilities upgrade.
Low Rider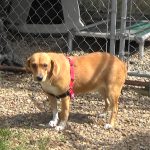 I picked up Low Rider on Tuesday.  She went straight into a crate in the bunkhouse for several reasons.
She was infested with fleas.  We work hard to keep fleas out of our facility, so that has to be dealt with before she can come anywhere near our other dogs.
She is fearful.  She's obviously been abused and is frightened of new people, insects, falling leaves, and the outdoors in general.  But not dogs: she ran right up to Ugg and Lady and said howdy to each.  She's only comfortable in a crate and prefers a quiet environment to herself.  The bunkhouse is perfect now that it's not so hot every day.  I can run my big turbo fan in front of a window and keep it tolerable in there.
She would not walk on a leash.  If used with a collar, she'd drop and gator-roll trying to get away from it.  A harness works better, but it has to be removed when she goes back into her crate or she'll chew it up.  We lost a $30 Walk-Rite harness learning that lesson.  The next smallest harness I had was a poor fit, but it served the purpose while I ordered more harnesses.
LowRi got a Capstar to get rid of the fleas and was given a topical flea & tick prevention to keep them away.  She was spayed on Friday, and has, over the past few days, done exceptionally well.  She has lost her fear of me and Marie (NAC said she warmed up to their staff too once she was sure they weren't bent on hurting her), has come to grips with the Great Outdoors, and has gotten to where she will allow me to lead her on a leash (using a harness), has learned to go down stairs, and just last night went up the steps for the first time.  Early on, I carried her from bunkhouse to play yard and back, so these advances are a kindness to my back.
I'm pretty sure she was pad-trained and kept indoors all the time in her previous life.  Teaching her that it was okay to pee and poop in the yard was an odd new challenge.  When in the play yard I take the leash off and she follows along behind me.  She would pee a little here and there, but do it on the sly and scamper away from it quickly.  The first time she pooped, I had gotten a ways out front of her, noticed she wasn't right behind me and turned around to see where she was.  LowRi was hunched up "going" about 30 feet away.  She saw me looking and immediately stepped away, dropped to the ground and went belly up in a classic, "please don't kill me, I submit" move.  So I rubbed that belly and gave her a few enthusiastic "Good Girl"s.  That shocked her and it took a few moments to grasp that not only was she not about to die, but I was happy that she did that.
By the time Transport Day rolls around next Friday, she will be adoptable and house broken.  She may be timid around new people (that takes time and exposure) but will be worlds better than when she arrived here.
Highland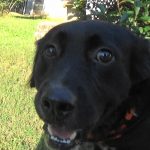 The other newbie is Highland.  He was pulled from Newport Animal Control on Friday, taken straight to Kathy's Grooming Salon to get rid of the "shelter stink" and any fleas he might have had, and is now living in a crate in our den.  This is easier on me because I can walk him to the back door when he needs to go out.  At least that's the theory.
In actuality Buddy Wingo, Callie, and Moonshine have taken exception to my bringing a new dog into THEIR house without their permission and go ballistic when I let Highland out of his crate.  So I have to first crate these three, then escort Highland to the door, wait for him to finish and return, get him back in his crate, then let the ruffians out.  These three then dash into the den to see that Highland is properly secured before they can go off to amuse themselves with their own affairs.
His first night here, Highland was quiet and we all got a good night's sleep.  Since then he has gotten "clingy" and fusses loudly if Marie or I are not in the room with him, day or night.  We have dealt with this before, it's just insecurity and trying to find his place in the home.  What it means is that one of us (mostly me, since Marie has a job to go to every weekday) will be camping on the floor of the den at night until he gets used to the idea that we are all here and he has not been abandoned even if he can't see us.
Other than this insecurity and the fact that he is not even remotely housebroken, behaviorally he is a great dog!  His gentle nature and happy demeanor make him a pleasure to be around.  He is affectionate without being demanding.  He IS a lab mix, so he's got that squirrely, high-energy aspect that is common to labs, but it's not as overt as it is in Moonshine.
Highland is not going anywhere for a while, so I'll have more on him later.
Moonshine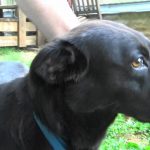 Moonshine had her first Immiticide treatment Sept. 20th and it bothered her very little.  She remained the energetic, lovable goof that she has always been — except now without a load of puppies.  She will be going back for her 2nd and 3rd treatments Oct 18th and 19th, then 30 days of enforced convalescence.  That will clear her of the heartworms and she will, once recovered, be ready to go back to C.A.R.E. for adoption and a full, happy life.
Ugg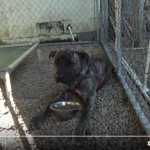 Our big boy was neutered last Friday.  He was pretty rough that evening, but was able to eat again the next morning.  Since then he has bounced back well.  His incision is looking pink and puffy, but I've not caught him licking at it once.  As long as he's not licking I see no need to cone him.  Ugg continues to calm down and accept that proper interaction between people and Ugg does not involve clawing or chewing or jumping.  It has gotten to where I really enjoy my time working with him.  He is still affectionate and goofy.
He has lost the desire to play fetch, but has decided he likes "tug" better — as long as I let him win.  It is recommended that you always let your dog win at tug — but don't make it too easy.  And don't let it look like you let him win.  And DO congratulate him so he knows you're not angry that he won.  Then he will come back to play that game over and over.  It's a GREAT confidence builder.
Lady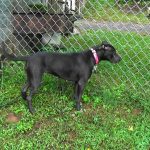 Lady was spayed on Friday.  It took a little longer for her to bounce back than it did Ugg, but that would be natural: spaying is a more invasive surgery than neutering.  She did, however eat dinner that night, but spent longer laying on her dog bed looking at me with eyes that said, "I feel awful."
Lady too has made great strides in her play behavior with me.  In fact she's decided I'm not much fun to play with at all, and wanders off to sniff and pee.  But when she's done she will come back and want to be petted and told what a good girl she is.
Lady, too, is ready for transport as soon as someone claims her.
Facilities Upgrade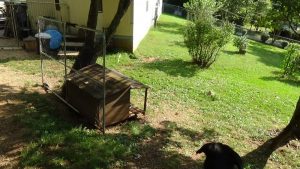 I plan to buy another 10′ x 10″ Stephens dog kennel from Tractor Supply tomorrow.  This will give me a more suitable place to keep LowRi so she can get some safe social interaction with the other dogs and get her out of the workshop.  She needs to learn to be a normal dog.
And, since we are bent on pulling as many dogs as we can from Animal Control, having more kennels is a good, and a needed, thing.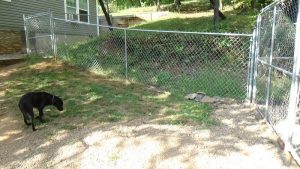 The end location for the new kennel may be here: in front of the existing kennels and along a fence.  But, the ground here is sloped and rolling.  I can't do anything about the slope, but need to flatten out the rolling to reduce the temptation for a dog to dig out.
Pipe Dreams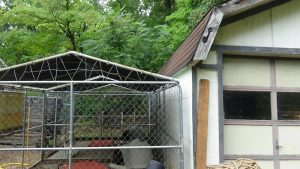 My long term plan is for a serious upgrade of our kennels as well as adding more of them, but this is an expensive project that will have to wait until funds are available.  It will involve pouring a 12 foot by 24 foot concrete slab next to the garage for three 8′ x 10′ kennels to sit on, and installing a proper roof over them (attached to the garage roof at the "hip") so nearly all rain will be excluded from the kennels.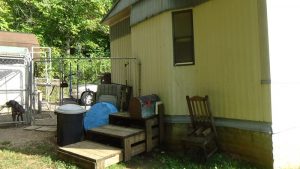 I also want to install a door in the end of the mobile home that has been my workshop and our bunkhouse so I can convert two rooms of that into kennels for cold weather use and a dog bathing facility.  We no longer have air conditioning in there, but we do have heat.  That will be a great thing when the weather turns bitter cold.  Trying to bring 9 or 10 dogs into our home (most in crates) just will not work.  Our house is too small, there just isn't room unless we stack crates on top of one another!
By putting in a door on the end of the trailer, I will have access to it from the play yard and not have to leash dogs to go outside the play yard to the shop's side door.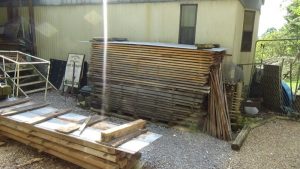 Once I sell this lumber pile I can place another kennel here, build a shed style roof from the trailer to cover it and make it well sheltered from summer sun and winter winds.  It will have no view of the yard, but for some dogs that may be an advantage.
God willing, I'll work on getting these things done in 2019.
There have, in the past, been times when I would say something about waiting to do something until funds are available (because we prefer to stay out of debt) and one or more of our rescue friends stepped up and sent us money to take care of the need. That has always amazed and humbled me (not that we don't help others too, it just amazes that people want to help US). And it generally leaves me scrambling around trying to facilitate an offer to help out. So if you are so inclined, I'm ready this time.
| | |
| --- | --- |
| This Donate button is tagged for "improvements" and funds received any time, now or next year will be put toward the improving and enlarging of our facility so we can better serve our county's canine population.  And we thank you for your generosity. | |
| | |
| --- | --- |
| If you enjoy our updates, Doggy Tales, and educational articles consider subscribing for notices when new pieces are posted. It's painless and you can unsubscribe any time you want. Your e-mail address is used ONLY to deliver these notices. | |