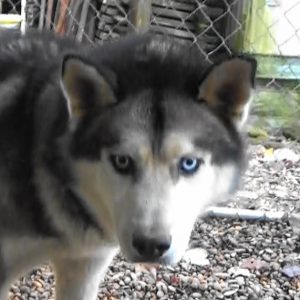 Rebel is a Husky.  Huskies are opinionated about things.  Apparently they are highly opinionated about their food too.  Unlike most dogs, Huskies won't wolf down anything you set in front of them.  Oh, no … Huskies like things the way they like them.  Linda Daniels is no stranger to picky eaters, she has a couple as live-ins as well as some in her list of former foster dogs.  She's been helping me solve Rebel's aversion to eating.  A few of the things she's turned up about Husky dining habits are:
Huskies don't like combined foods.  They're kind of like those people who have to use segmented plates to keep their foods from touching or they can't eat it,  We found that Rebel likes shredded, boiled chicken breast.  So I tried to ease him into eating the gastroenteric dog food his vet wanted him to be eating by mixing it into his chicken — a little of it each time.  That didn't fly: he insisted that there be NO "pollutants" in his chicken.
Huskies prefer a varied diet.  Most dogs are perfectly happy eating the same food day after day.  Not Huskies.  And Rebel falls in line with this.  I got my hopes up a couple of times when he accepted a little of some food or other.  But the next time I offered him that food, he said, "I had that before.  Want something new."  Except for the chicken, he has eaten several meals of that, but not consecutively.
Huskies can, however, be persuaded through peer pressure…
Rebel's former mom said that he was eating normally until about three weeks ago.  Since then he eats very little and has lost a lot of weight.  He currently weighs 45.5 pounds and should weigh in around 70 pounds.  Under his thick fur, he's just bones.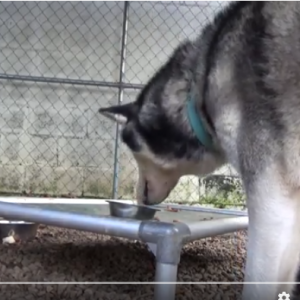 When I was unsuccessful in his first few days here to tempt him to eat  — and I tried a wide variety of kibble, canned dog food, and people foods — I took him to Cedarwood Veterinary Hospital to see if there was a physical reason for is starvation diet.  They ran a G.I.Series with barium.  This eliminated suspicions such as megaesophagus, and bowel blockage.  They sent me home with some special dog food to soothe his gut.  He ate a little, then refused any more..
Yesterday was a good day: Marie got him to eat a some Critical Nutrition dog food, and Josie helped me get him to eat about two cups of Salmon and Potato kibble over the course of the afternoon.
Today, he's back to refusing most everything.  He ate about 1/2 cup of chicken breast this morning, left the rest of it in his dish, and has refused everything else I've offered him.  So the struggle continues …
| | |
| --- | --- |
| If you enjoy our pupdates, Doggy Tales, and educational articles consider subscribing for notices when new pieces are posted. It's painless and you can unsubscribe any time you want. Your e-mail address is used ONLY to deliver these notices. | |