Pascal Robin came to visit me from Jefferson City yesterday. When she opened up the back of her SUV I saw she had brought me a crate of Moonshine:
Moonshine and her relatives, Whiskey and Bacardi are residents at C.A.R.E. (Companion Animal Rescue and Education) and Moonshine is Heartworm positive. C.A.R.E. raised the funds to pay for her treatment and asked if I would (please) take Moonshine in and provide a quiet place for her to undergo treatment and recovery.
Heartworm is the reason we got into fostering and has always been something of a specialty with us. Since Lucky has become a full-time indoor dog we had a kennel open, so I was happy to welcome this sweet Lab into our company.
Moonshine will be available through C.A.R.E. once she is cured of her heartworm — which will be the end of August (let's make that) mid-November: a complication has arisen (see below). You may contact C.A.R.E. through their web site: Companion Animal Rescue and Education or their Facebook Page or by phone (865) 471-5696, 12:00 noon until 5:00 pm Mon – Sat.
Last updated: Nov 23, 2018
Moonshine's Base Info: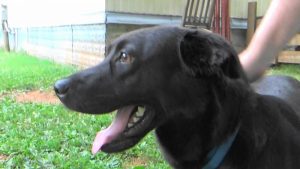 Arrival date: June 20th, 2018
Breed: Black Lab Mix
Sex: Female
Age: 1-2 years
Weight: Approx 40 pounds
Spay/Neutered: NO!
General Health: Excellent
Temperament: Gentle, sweet, reserved. Almost timid.
Gets Along with Dogs: Yes. No sign of toy or food aggression. She likes to play, gets a little rowdy if you let her.
Gets Along with People: Yes. She loves to be petted, especially a belly rub. Likes to be near her human and will follow me from room to room as I'm doing things.
Housebroken/Crate Trained: Yes on both.
Departure Date: Nov. 23, 2018
Known Issues & Progress
The only issue I know of at her arrival is her heartworm condition, and treatment for that is already underway.
July 18: As we were preparing for Moonshine to have her injections, Moonshine gave birth to seven PUPPIES! C.A.R.E. placed Moonie and her pups with a puppy-savvy foster home and we're planning to have Moonshine back once her pups are weaned – to resume her treatment.
August 17th: Moonshine returns. We need to reset her heartworm treatment schedule and we're trying to do that locally rather than trucking her to Jefferson County each time she needs to see the vet.
Accepted by Cedarwood Veterinary Hospital
started on Doxycycline (200 mg, 2x daily) Aug 20
Appt for 1st treatment Sept 20th
Final HW treatments were done Oct. 18th and 19th. She did exceptionally well. She is now on activity restriction for 30 days.
She'll be ready to return to C.A.R.E. on November 19th.
All my dogs have accepted her back and they get along famously. She gets the run of the house except for when I leave.
Nov. 2nd – Where we're at: Moonie eats her meals in a crate because she will raid the other dog's dishes (and they'll let her). She also sleeps in a crate at night because she likes to pace, and having her go tickety-tack,tickety-tack in the hallway is disturbing to all who want to sleep. Put her in her crate and she goes right to sleep and sleeps through the night. In the morning she will nose-whistle at me to let me know she needs to go outside. Once that is done I leave her free to roam the house unless she and another dog (usually Josephine) decide to get rowdy before my wife gets up. I'm generally up a couple of hours before she is, and it's my job to see that things remain calm and quiet until 5:30 when she gets up.
UPDATE: The last couple of nights she was here we let her sleep on a dog bed in the bedroom (no crate).  She did very well at staying in bed and being good.
Any time I crate her (I use "in your room") she gets a small treat. She expects that now. She also gets a treat when she comes back in from her first potty run of the morning.
UPDATE: Recently she has started "sassing" me about going into her crate.  She stands by the crate, looks at me defiantly and yaps, "No, I don't want to go in there!" until I give her "the look", then she ducks into the crate and gets her treat.  She's so funny!
She's been eating 4health Salmon & Potato kibble from Tractor Supply. I give her 1¼ cups of kibble per feeding and feed her twice a day (breakfast and dinner).
Moonshine is gentle on her bedding, so I make sure she has plenty of "cush" to snuggle into. She is generally quiet, not a barker. She tells me when she needs to go out by either scratching on the door or coming and talking to me. She'll do the same to get back inside.
She is quite affectionate and loves to be loved on. But she's not pesky about it. I have not been able to break her of "peeking" over the counters when she smells food. She won't do it if I'm looking, but if I turn my back or leave the room, things tend to go missing. I've gotten spoiled, I can leave my dinner on a tray table in the living room, leave the room, and my dogs will not bother it. They'll stare at it, they may sniff, but not take anything. Moonbug is not that trustworthy!
Gallery
In roughly chronological order, newest at the bottom. Click the thumbnails to enlarge. Some pictures are linked to Doggy Tales about Moonshine, click those to open the related story.
Away on puppy hiatus
for one month

Moonshine RETURNS!

Meeting Blue Steele (STORY)

Moonie and the peanut butter jar (story)

Playing with Josephine. (Video)
| | |
| --- | --- |
| If you enjoy our updates, Doggy Tales, and educational articles consider subscribing for notices when new pieces are posted. It's painless and you can unsubscribe any time you want. Your e-mail address is used ONLY to deliver these notices. | |