Last night Sable started in on a monotone, metered barking that went on, and on, and on. Around 9:30 we decided she was not going to settle down and I went over to the bunkhouse and set up the BIG crate for her.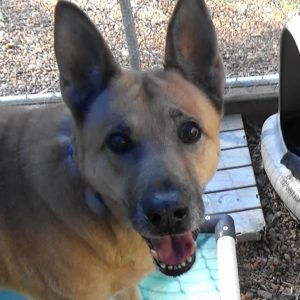 When I let her out of her kennel, she raced out the door before I could put a leash on her. But she went only so far as the nearest good patch of grass, squatted, and peed about a gallon. When done she came back to me, started bouncing playfully and rubbed on my legs, obviously appreciative of my concession to her needs. She is housebroken and did NOT want to pee in her "house".
I felt so bad for leaving her so long!
Since I already had a crate set up I decided to go ahead and take her inside.  She was a bit confused as we went out the gate (toward the truck), up the steps, and along the porch. When we got to the door she perked up. She peeked inside, ''Oh, it's a house! It has weird furniture, but it's a house!"
I took her to her crate and she scooted right inside. I gave her a cookie and bade her good night.
This morning, when I went to bring her back outside, she was still in her crate, the bedding was intact and dry, and she calmly let me clip on a leash and walked back to the play yard to relieve herself again.
She's not giving me any trouble at all! I just don't see the aggression she displayed at N.A.C. I suspect she will settle down quickly now that she's here at Piney Mountain. That is often the case.
| | |
| --- | --- |
| If you enjoy our updates, Doggy Tales, and educational articles consider subscribing for notices when new pieces are posted. It's painless and you can unsubscribe any time you want. Your e-mail address is used ONLY to deliver these notices. | |