Hudson is a big, laid-back, Tennessee good-ol-boy hound who just wants to be loved.
Last updated: Jan 28, 2019
Base Info: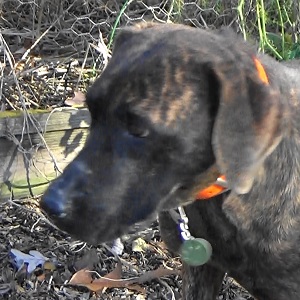 Arrival date: Nov. 10, 2018
Breed: Lab/Hound mix
Sex: Male
Age: Young, Adult, Mature, Senior
Weight: @ 70 Pounds
Spay/Neutered: Yes
General Health: Excellent, Good, Fair, Poor
Temperament: Calm and laid back.
Gets Along with Dogs: Yes
Gets Along with People: Yes
Housebroken/Crate Trained: House: Sort of / Crate: Yes
Departure date: January 18, 2019 –> 11th Hour
History
Hudson was found dragging a length of chain and wandering the parking lot of the local Wal-Mart. Animal Control was called and they took him in. No one claimed him. No one adopted him, so he became a Steele dog.
Known Issues & Progress
No issues seen. Hudson can be bouncy and playful with other dogs but is generally respectful and affectionate with people. Even when I first let him out of his kennel he walks out and STANDS next to me, looking up asking, "Please pet me". Such a good boy!
He's a little "pully" on a leash with a collar, but not bad at all, and a slight tug on the leash gets him to stop pulling for a while.
He knows and responds to "come", "sit" and "in your room". Rewarding him with a small treat insures compliance. Hudson is all about treats!
He prefers not to poop in his kennel and as long as I let him out regularly will hold it until he can go to the yard. Actual house breaking should be easy with this foundation laid. Tendency to "mark" will go away now that he's been neutered.
Medical
DA2PP: 11-10-2018 (N.A.C.)
Bordatella: 11-10-2018 (N.A.C.)
Wormed: Nov 10, 11, 12, Fendbendazole: 12 ml (PMFC)
Rabies: Nov 30, 2018 by Claws and Paws
Spay/Neuter: Nov 30, 2018 by Claws and Paws
Flea/Tick preventative: Dec 1, 2018, Advantage
. Jan 4, 2019, Advantage
Heartworm preventative: Dec 1, 2018 NuHeart
. Jan 4, 2019 NuHeart
Heartworm Test: Nov 30, 2018 by Claws and Paws – result NEGATIVE
Progress Notes:
Updates on foster dogs are posted regularly. To check out those that refer to Hudson [click here]
Gallery
In roughly chronological order, newest at the bottom. Click the thumbnails to enlarge. Some pictures are linked to Doggy Tales or videos about Hudson, click those to open the related story or video.
| | |
| --- | --- |
| If you enjoy our updates, Doggy Tales, and educational articles consider subscribing for notices when new pieces are posted. It's painless and you can unsubscribe any time you want. Your e-mail address is used ONLY to deliver these notices. | |