Tonka has clearly been a family dog, he is trained and well behaved. But he's been on his own for a long time and is in rough shape. But he's at PMFC now and we'll take good care of him.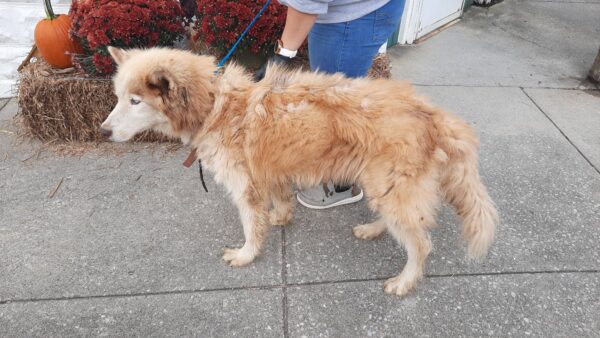 Last updated: Sept 29, 2022
History
Tonka was picked up for vagrancy by City of Newport Animal Control on Sept 24th. He is emaciated, fur is badly matted, has ear infections, skin issues, and heart worms. He's a gentle, sweet boy and has been trained. But he's been roughing it for a while. No tags, no microchip, no response to Found Dog notices. His future didn't look good. But A Pathway to Hope stepped in and PMFC will foster him for them while we get him healthy again.
Base Info:
Arrival date: Sept 28, 2022
Breed: Golden Retriever/Husky mix
Sex: Male
Age: Mature
Birthdate: 09/24/2015
Weight: 46.8 pounds on Sept 24 (should be 70 pounds)
………… 48.6 pounds on Sept 29
Spayed/Neutered: Not Yet
General Health: Poor
Temperament: Calm and gentle – but the sick ones often are.
SAFER Test performed: Yes – Passed easily
Departure date: Undetermined
More will be added as care and training progress. To receive notices of updates subscribe below. It's painless and you can unsubscribe any time you want. Your e-mail address is used ONLY to deliver post notices. That's a promise!
Want to help save lives?
Everyone involved with PMFC is a volunteer,
no donated funds go to salaries or benefits.
We are 501(c)(3) – EIN: 84-3593563