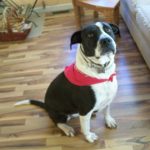 One of the great things about being a dog is our social order. We do not have to guess about who is in charge, we always know. In our pack (home) HairyFace is the pack leader because he provides us with food. That earns him the right to boss us around (he calls it 'training') and we comply because there is generally food in it for us. And because we love him, but mostly because of the food.
I am Hairy's second in command.  He calls me his Sergeant at Arms because keeping the pack secure is my primary job. I also mentor the fosters, and make sure the snuggle beds don't escape (I suppose that too falls under security). It's not that I'm a vicious dog.
When the Peoples take me out in public, I'm very friendly: encouraging people to scratch my head and pet me. For those who are truly deserving of such an honor I will even flop over and present my belly for a good rubbing. HairyFace calls me "a big moosh-baby". I'm not sure what that means, but I'm pretty sure it indicates non-violence.
Out there.
Here at home, I am The Protector. It is my job to keep my pack safe from horrible threats like murderers, robbers, school buses (they eat children you know: I've seen them do it), loud cars, marauding stray cats, garden munching bunny rabbits, and the wind. Here at home, I am … intimidating (eye-brow waggle). And I do it well.
That's why I was just aghast when I went off to deal with a heinous threat and upon my return I found this:
Would not you agree that this was totally unfair and demeaning? Imagine, sending me off to sleep in Volt's bed so Volt could take my favorite place. SO unfair.
But, Hairy is the Leader, so … I hear and obey, because I'm a good dog. And I will be wanting dinner this evening (sigh).
---
| | | |
| --- | --- | --- |
| | If you enjoy our updates, Doggy Tales, and educational articles consider subscribing for notices when new pieces are posted. It's painless and you can unsubscribe any time you want. Your e-mail address is used ONLY to deliver these notices. | |