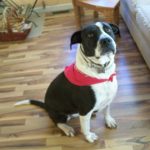 Thursday, June 23rd, 2016 was our final evening to spend with our buddy Volt. He's been with us since January, and has become a regular member of the family. And it's been a pleasure to get to know him: he is a true Southern Gentleman … err, dog. In the morning HairyFace will take him to The Shelter for his physical and preparations to ride the Rolling Rescue van.
He's headed for Fur Friends in Need, a rescue in Pennsylvania. Or Staten Island, or both … I'm still a little confused by all that. But it is our understanding that he will go directly into another foster home situation while they find him a forever home. That's good: it would just crush Volt to be put back into a kennel.
But for this evening, NiceLady bought is a package of toasted beef trachea. They were crunchy, all natural, and quite tasty. Everyone got to join in, too. In their own way.
---
| | | |
| --- | --- | --- |
| | If you enjoy our updates, Doggy Tales, and educational articles consider subscribing for notices when new pieces are posted. It's painless and you can unsubscribe any time you want. Your e-mail address is used ONLY to deliver these notices. | |