I used to work at the Humane Society of Jefferson County.  It's what some people call an "animal shelter" but I avoid that term when I can because of the negative connotations that come with that term.  It is, however, a place where a large number of animals are housed in minimal accommodations.  My coworkers and I worked very hard, every day, to keep their living spaces clean and healthy.  All animals were vaccinated upon entry, watched closely for signs of disease, and medicated as necessary for their recovery.  Euthanasia was a last resort, and not taken lightly.  But it did happen.
Visitors to H.S.J.C. sometimes saw tags on kennels reading "Going to Rescue".  Some asked what that means.  A few complained that they wanted to adopt an animal so tagged: "Why can't I adopt if the animal is right here?"
What is Rescue?
Local adoptions are just one way shelters seek to save the lives of the animals in their care.  They also work with "rescues" that will transport animals to other states where the demand for great dogs and cats is higher than it is here.  Some shelters even transport animals themselves in a specialty vehicle.
Higher demand: how can that be?
I'll tell you.  Areas like New Jersey, New York, Pennsylvania, Ohio, Michigan, Wisconsin, and Florida have strict spay/neuter laws so irresponsible pet owners are not dumping tens of thousands of puppies and kittens a year into shelters for the community to support and care for.  Therefore they often have a shortage of adoptable animals – unless you go to a licensed breeder and pay big bucks for an AKC registered animal.  By moving animals from areas with a high population to areas with high demand, we save the lives of our animals because they do not end up being euthanized for lack of space or left to die out in the wild.
Why Can't *I* Adopt This One?
When a rescue "pulls" an animal from a shelter it is often done by looking at pictures and information posted to the internet.  Trusting relationships are developed between agencies, making this sort of thing possible.
This is important because when a rescue accepts (reserves) and animal for transport in a week or two, they immediately set about seeking an adoptive home or a foster home for that animal.  In some cases when the animal is unloaded from the transport van it will go almost immediately into the arms of it's new family.  We would seriously disappoint both the rescue agency and that adoptive family if the animal they are eagerly waiting for were adopted out locally.
But There Are So Few Left For Me!
It is not common for a large percentage of a shelter's population to be claimed by a rescue at one time.  But on occasion is does happen and they allow it to happen because they're expecting a large intake of new animals.  When people ask us, "What am *I* supposed to do, there's nothing for ME?" they say, "Come back tomorrow".  They take in animals every day.  Some days a LOT of animals.
What Do Rescues Do?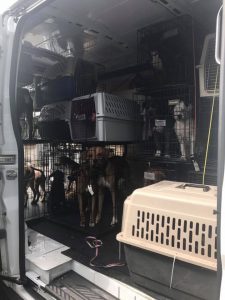 Some rescues are solely for transportation.  Other rescues house the dogs in their own facility or in foster homes to deal with any health or training issues that need to be addressed before the dog is adoptable.  This includes spay.neuter, rabies vaccination, heartworm test — and treatment, if needed.  Some dogs have other health problems that require veterinary care before they can be adopted.
Most people won't adopt a wild-eyed hooligan dog, so most rescues also work at civilizing dogs that were picked up as strays or rescued from neglect and abuse by owners.  The dogs need to know and obey basic commands, they need to be housebroken and crate trained, they need to be able to walk well on a leash.  Many potential adopters don't want to (or don't know how to) do this training, most shelters don't have the time or staff to train their dogs, so the rescues have to do it to make the dog adoptable.
The Bottom Line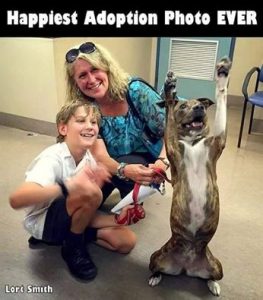 The bottom line for any good shelter is always saving the lives of these animals.  If that means sending them a thousand miles away to find good homes, they'll do it.  They are always delighted to adopt out locally — and they do this on a daily basis too — but when an animal has already been promised to someone, it cannot be adopted by someone else.  That just wouldn't be fair and doing it anyway would make it hard for the shelter to find rescues to work with because they'd get a reputation for unreliability.
So please understand: it's nothing personal.  It's also not about greed: the shelter often loses money on animals that go to rescues.  But they save the life, and that is their primary concern.  We hope it is yours as well.
| | |
| --- | --- |
| If you enjoy our updates, Doggy Tales, and educational articles consider subscribing for notices when new pieces are posted. It's painless and you can unsubscribe any time you want. Your e-mail address is used ONLY to deliver these notices. | |