Ugg learned a new trick while we were away at church today.
He's been so lonely since his lil buddy, Blue, left on a rescue run.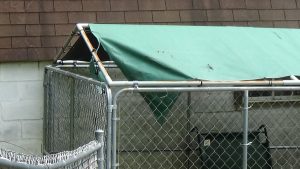 When we got home about 12:30 Ugg met us at the wooden gate, grinning his face off and tail flapping madly. A neighbor said he was loose in the yard for quite a while, she first saw him around 11:00.  The roof of his kennel is all torn up.  The corner is shredded and there are many punctures to the tarp covering.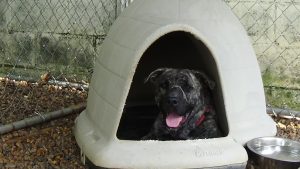 I moved Ugg into kennel #1, which is our Max Security cell, with mesh fastened in under the roof along the edges to prevent climbers from getting out. I had to move all the added hardware from his old room to the new one too.  That was Blue's room since I figured if anyone was a climber, it would be a hyper Terrier.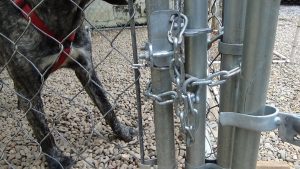 Ugg discovered early on that he could yank his door into the kennel (twisting the latch) and get out. I installed a heavy chain with anchor shackles until I could order a second latch to mount down low. But even the second latch wasn't enough so I use both latches AND the chain at night and when I go away.  He can't get out through the door any more, so he went looking for some other way … and found it. Who'd have thought such a massive dog would be a climber?
I guess we'll have to go to N.A.C. and find Ugg a new neighbor – and save another life.
| | |
| --- | --- |
| If you enjoy our updates, Doggy Tales, and educational articles consider subscribing for notices when new pieces are posted.  It's painless and you can unsubscribe any time you want.  Your e-mail address is used ONLY to deliver these notices. | |