Buddy is a 92 pound, senior, Golden Retriever picked up by Animal Control as a stray and delivered to an animal shelter. The shelter vet looked at him and decided he didn't have any obvious, serious health problems, but could not tell for sure what shape he was in without a good examination and blood tests. Because he's a senior, and because he does have skin issues and wounds on his feet, it's not likely the shelter will invest limited resources in that examination, nor is it likely he will survive long in an over-crowded shelter. So I brought him home as a foster-project.
June 30, 2017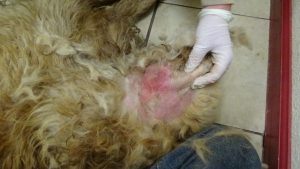 I took him to Cedarwood Veterinary Hospital right away and it was no trick at all to find out that we has infested with fleas and ticks (even I could see that) but he also had three large hot spots where the skin was raw and the flies had laid eggs, resulting in those areas being infested by maggots. Two vet techs and I gloved up and worked for over an hour and a half to pull around two dozen ticks off and cut away the fur to expose the hot spots and clean out the maggots.
When that was done Dr. Kline came in to do the examination. Rebecca (one of the Vet Techs) drew blood to do a multi-test that checks for Heartworm, Lyme Disease, Ehrlichiosis, and Anaplasmosis. The physical showed no signs of organ failure or serious illness and the multi-test came back negative on all counts. He does have an open wound on each hind leg that causes him pain when walking.
We gave him a Capstar to clear him of the fleas and any remaining ticks (works in 30 minutes to an hour). He came home with a dose of NexGard to protect him from fleas and ticks for the next month. He also has a course of Cephalexin (antibiotic) to clear up the infections, and some Derma-Vet ointment to clear up the insides of his ears.
I also have instructions to have him sheared like a sheep before his follow-up appointment next week. We need to be able to see his skin under all that matted, twig-tangled fur to make sure we've taken care of all his issues. Besides, cutting it short will make it possible to keep him brushed out and looking good when the fur grows back in.
July 2, 2017
At first Buddy just laid around and looked sick. Yesterday he was a bit better, wanting to walk in the yard. Today he is quite a bit more animated. He is eating very little, and we've gone through several brands of canned dog food to get that much into him. But his mood is improved.
I am having to poke his pills down his throat because even embedding them in hot dog chunks does not entice him. But he is really good about it.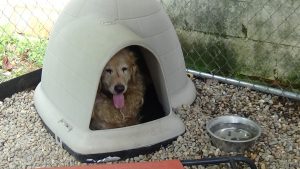 For some reason, today he decided to squeeze into the Igloo dog house in his pen. Once in there, he had a hard time getting back out, but he did come out to amble over to the door and ask to be let out into the yard for a potty break. Much like Julian, Buddy prefers not to even pee in his pen. That is good: if he isn't house broken already, getting him there will be easier with that attitude.
July 4, 2017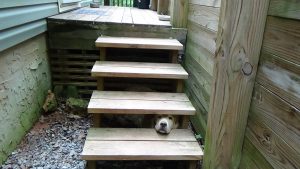 Buddy gets a little more animated each day. I suspect the antibiotics are helping him feel better. He seems to be okay with everyone except Julian. But then Julian is the only other intact male here. I'm guessing it's a testosterone thing. We'll be "fixing" that pretty soon. I have not let him out in the yard with anyone yet, although he does play Bridge Troll sometimes and will snarf at some of the others when they try to go up the steps.
Buddy is now quite tolerant of my medical ministrations. At first he was evasive and I'd have to chase him around the pen. Now he lets me poke the pills down his throat, put the drops in his ears and massage them, and lets me put ointment on the raw skin … which is now becoming "crusty" as the bloody parts scab over. There is now almost no puss issuing forth either. I don't know if he is capable of making this connection, but it's as though he knows that what I'm doing to him is what's making him feel better. His appetite is improving too.
He's more active too. Before, he tended to just lie around: now, he often gets to his feet when he sees me and he wants to come out to walk around the yard with me.
MEDICAL EXPENSES
A heart-felt Thank You to those who donated to Buddy's medical fund. This helped so much to provide him with the needed care to restore his health.
Thank You!
July 8, 2017
Today I took Buddy to Kathy's Grooming Parlor in Newport, TN to be sheared and bathed so our veterinarian can better assess his skin. The difference is amazing!
Kathy not only got him all cleaned up, but sent him home with a new toy and a clean collar. He was SUCH a good boy!
From this we learned that he has been a house dog, he is crate trained, and he loves squeaky toys! Many thanks to Kathy for taking such good care of this special fella.
July 10, 2017
July 11, 2017
Blondie Bear and Buddy have veterinarian appointments today. Both are big, blonde dogs. Neither has been around each other much. Can I pull off packing them both into a small exam room?
I decided to transport them separated: Blondie inside the cab with me, Buddy in a transport box in back. Both have ridden in the cab before and done well, but not together.
When Julian stays in the house he's usually crated unless Marie or I can keep a close eye on him. But he could shred his wire crate and escape any time he wanted to, so when we both leave the house, Julian goes out to his kennel. Shuffling the dogs to get each where they needed to be took some time.
Buddy's exam went well and Doctor Sandra is pleased with his progress. She sees nothing serious, just a few blips that are not uncommon for an 8 to 9 year old dog.
July 18, 2017
July 24, 2017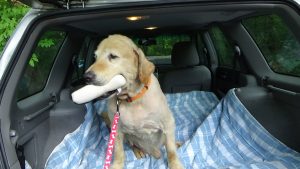 Over the weekend Marie and I took Buddy on a road trip to Jefferson City. We visited his Alma mater (Humane Society of Jefferson County) and the garage sale they were having as a fund raiser.
He said hello to everyone, then plunked himself down in the doorway to become the official greeter. The new arrivals were happy to scratch his head and pet him. One fellow stopped too soon, so Buddy followed him inside, nudging the fellows hand with his nose, "Excuse me, sir, you have not yet met the admission requirement." To his credit, the fellow laughed and complied. Once sated, Buddy went back to sit by the door.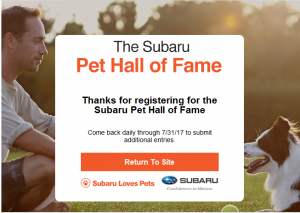 We took some video of Buddy riding in Marie's Subaru. He looked so content that we commented on Facebook that he ought to do Subaru commercials. A few friends encouraged me to pursue that and Marie found that in fact Subaru has a Subaru Pet Hall of Fame contest going on, so I whipped up something that fit within their guidelines and submitted it to them. We'll see if anything comes of it. If nothing else, it was fun to do.
UPDATE: A month has gone by and no word has been received on this project so I'll post it here for you to enjoy:
July 27, 2017
Fabulous news! Yesterday evening I had a telephone conversation with Bonnie from the Tennessee Valley Golden Retriever Rescue, and she made a verbal commitment to accept Buddy into their program!
Bonnie needed to arrange for vetting, then will call me this morning to discuss when and where to make the transfer. T.V.G.R.R. is ideally placed to find Buddy a proper forever home, so we are excited by this development. Many thanks to Jen Steele of Steele Away Home Canine Foster and Rescue for setting this up and getting the ball rolling.
July 29, 2017
Buddy has been turned over to his new keepers who will find him a good forever home. Today was our final ride with Buddy.
| | | |
| --- | --- | --- |
| | If you enjoy our updates, Doggy Tales, and educational articles consider subscribing for notices when new pieces are posted. It's painless and you can unsubscribe any time you want. Your e-mail address is used ONLY to deliver these notices. | |