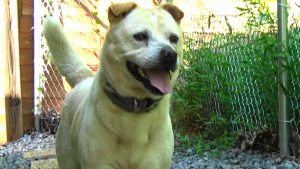 Sylvia is a 7 year old Shar Pei mix with a checkered past. She is affectionate but not clingy. She shares the yard with most other dogs, but does not usually engage in play other than running.
She's kind of a loner.
Last updated: Nov 11, 2017
Fast Facts
She has been spayed and all her shots are up to date except rabies and she is on heartworm preventative.
She has been crate trained and pee pad trained.
Sylvie currently bunks in a pen and has had multiple neighbors: male and female. She has gotten along just fine with all of them.
Amy says Sylvia gets along great with CATS.
She does show strong alpha-dog tendencies including an insistence on peeing on all the spots the male dogs have marked.
Sylvia's Story
Sylvia is one of 20+ dogs taken to the Humane Society of Jefferson County after Animal Control removed them all from a single hoarding situation. Most of them are Shar Pei mixes. All of them exhibited some degree of fearfulness. Some of them had never had ANY human contact and had had to fight for the little food that was occasionally tossed out for them. During Sylvia's stay she tested positive for heartworm and the shelter was not equipped to properly care for a dog going through HW treatment so they appealed to Steele Away Home – Canine Foster and Rescue for help. But not before she stole the hearts of the shelter staff.
Sylvia and another dog in the group had recently given birth to litters of puppies. The other momma dog attacked Sylvia's litter and killed several of them and wounded Sylvie. The other momma had to be euthanized because of her "killer" behavior, leaving her pups motherless so the staff tried giving them to Sylvia. She eagerly adopted them and mothered them until weaned. But she needed special accommodations because she was so protective she'd charge the fencing if any dog was walked by. Once her foster mother duties were completed, she went into foster care herself for treatment.
Amy Huff was her first foster home and brought her a long ways from the terrified, defensive dog she was. Amy had cats, which Sylvie got along with just fine, but no dogs. Sylvie needed more group interaction, so Amy began bringing Sylvie here to play in our yard, meet our dogs and to meet me. That went well and after a few weeks of visits, Sylvie came here to live, and I've been working on socializing her further.
Sylvia is now quite accepting and friendly with both me and my wife, Marie, and has been friendly to strangers who visited. She has gotten along well with all of our dogs … except Blondie Bear. At first Sylvie ignored Blondie while they were in the yard together. But after a while Sylvie decided to challenge her:
I needed to step in quickly to avert a potential fight. That antagonism continues, but only toward Blondie Bear – and we don't know why. Blondie is the sweetest, most gentle thing you can imagine.
This means she cannot come in our house because Blondie lives in the house, so further house-manners training is out of the program unless I can resolve this. She does, however, dance on her fencing with a toy clutched in her mouth when the others are in the yard, "I want to play too, I want to play too. See: I have a TOY! Let me play too." She really wants to get along, but her insecurity gets the better of her on the rare occasion.
Sylvia plays with "The Gang" in the yard. Cochise is missing: he's taking a nap. (This was shot a while back)
She plays better with Julian when Josie is not in the mix. She doesn't like to compete for the attention of her playmate.
As you can see, Sylvie can play well with others.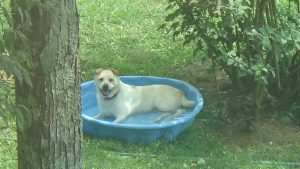 Sylvia knows how to cool off on a hot July afternoon! She stayed in there for the longest time, then stepped out, shook off, and went to sunbathe on the doggie-cabin's front porch.
| | | |
| --- | --- | --- |
| | If you enjoy our updates, Doggy Tales, and educational articles consider subscribing for notices when new pieces are posted. It's painless and you can unsubscribe any time you want. Your e-mail address is used ONLY to deliver these notices. | |