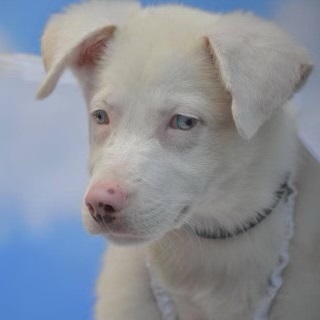 History
Surrendered to a shelter by a breeder because he did not meet their standards.
Base Info
Arrival date: Oct 18, 2021
Breed: Double Merle Australian Shepherd
Sex: Male
Age: Puppy
Birthdate: @ July 22, 2021
Weight: 13 pounds on Oct 18
………..
Spayed/Neutered: Yes
General Health: Good
Temperament: Playful, inquisitive. Learning to be affectionate.
SAFER Test performed: No
Departure date: Nov. 4, 2021 heading for A Pathway to Hope. They will handle his adoption.
Gallery
Progress Updates
Oct. 19, 2021
Gabriel has settled into his room and is a playful, inquisitive boy. Clearly he is not blind, as was suspected. I don't think he's deaf either, for he responds to sounds when I'm behind him. His left eye appears to be "lazy" (doesn't track with his right eye). He has an occasional cough. We'll see what the vet has to say about that tomorrow.
Oct. 20
Gabriel spent the day at the vet today for evaluation. Totally deaf. He has good vision in at least one eye. No issues with his lungs, Dr. thinks the occasional "cough" is more of a reflux/regurgitation. He only did it once during the day he spent there, so it's hard to say for sure. Dr. Sandra did a chest x-ray just to make sure there were no issues with his lungs. They were clear. He does have Coccidia, I start him on a 6 day course of Albon tomorrow. We'll re-test afterward. Gabriel was declared a "Total Snuggle-bug" and the staff had to take turns cuddling with him.