Picked up as a stray by Animal Control, this poor boy has obviously been mistreated

Last Updated: July 10, 2020

Base Info:
Arrival date: July 10, 2020
Breed: Pure Malamute
Sex: Male
Age: Youth, Adult, Mature, Senior
Birth date: unknown
Weight: @65 pounds
Neutered: unknown
General Health: Excellent, Good, Fair, Poor
Temperament: Wary and unwelcoming.  Growls at strangers.
Claimed by A Pathway to Hope
Departure date: Undetermined
History
Brought to the Friends Animal Shelter of Cocke County by Animal Control, he was frightened and defensive.  A shelter staffer, Autum, broke through his defenses and helped him be more accepting.  Autum is my hero!
Blade's Progress Summary:
Detailed notes on this foster dog's progress are posted below the summary.
Relational Behavior

Relates well to other dogs: Yes
Can eat food/treats near other dogs: Yes
Preferred style of play: chasing
Is affectionate: With people he trusts
Is good with:
. Men: Mostly not.
. Women: Some, more than men
. Children: Unknown
. Cats: Probably not
Jumps up on people: No
Mouths: No
Walks well on a leash: Yes

House Dog Training

Willingly enters his crate: Unknown
Is calm/quiet while in crate: Unknown
Understands going outside to potty: Unknown

Alerts me of need to go outside: N/A

Is destructive of bedding and/or toys: Unknown

Refrains from kitchen counter cruising: Unknown

Stays off people furniture: Unknown

---

Terms of Adoption:

Contact A Pathway to Hope for an adoption application.

Commands:

Comes when called: Sometimes
Sits on command: Yes
Down / Off: N/A
Shake / Paw: Yes
Kennels on command: Yes

Medical

5Way: 07/09/2020 Friends Animal Shelter
. Booster: NEEDED
Bordatella: 07/09/2020  FAS
Wormed: Dates | Product | Dose | By
.
.
Rabies: NEEDED
Microchipped: UNKNOWN
http://www.petmicrochiplookup.org/
To register: https://www.freepetchipregistry.com/
Neuter: Unknown
Heartworm Test: Needed
Flea/Tick preventative:
.
.
Heartworm preventative:
. NOT UNTIL TESTED
.
NOTES:
.
.

Diet

Blue Buffalo Chicken & Brown Rice, 1 3/4 cups AM, 1 1/4 cup PM
PMFC Peanut Butter Treats
Retriever Basted Beef Sticks
Jones Beef Hooves
Gallery
In chronological order, newest at the bottom. Some pictures are linked to a more detailed Doggy Tale about that update, click those to open the related story.
Progress Updates
Progress notes are listed below, in chronological order, newest at the bottom.
June 27th
Blade is still at the shelter.  He is not adoptable right now because of his fear and bad attitude.  I've been going in a couple days a week to work with him and have made some headway, but Autum has been amazing with him!
A rescue said they would pull him, but then backed out.  So he is again in need of a solution.  I've committed PMFC to taking him so he doesn't get euthanized.
June 29th
I went to visit Blade again.  Autum has made great progress with him, he knows "sit" and "paw", and will walk on a leash with her.  He found that he HATES hats and loves Vienna Sausages.  We have another dog in care who also hates hats because his former owner would take off his baseball cap and beat him mercilessly with it.  Maybe something similar happened to Blade.
July 10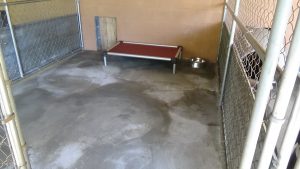 Friends Animal Shelter is supposed to be bringing Blade out to PMFC in their van with Autum riding with him to keep him calm.  His room is ready and we are all excited to have him in residence where I  can spend much more time with him.
And I have a supply of Vienna Sausages laid in for him!
.
Want to help
save lives?

PMFC is a 501(c)(3) Charity

If you enjoy our pupdates, Doggy Tales, and educational articles consider subscribing for notices when new pieces are posted. It's painless and you can unsubscribe any time you want. Your e-mail address is used ONLY to deliver these notices. That's a promise!

You can also support us at no cost to you
with Amazon Smile.