Skittish and something of a crybaby right now, she's been mistreated. We'll need to restore her trust.

Last Updated: July 11, 2020

Base Info:
Arrival date: June 13, 2020
Breed: Husky mix
Sex: Female
Age: Youth, Adult, Mature, Senior
Estimated birth date:  August 2019
Weight: 34.2 Pounds (June 30)
Spayed: June 30, 2020
General Health: Excellent, Good, Fair, Poor
Temperament: Nervous, but seeks attention.
SAFER test performed? Yes-passed
Claimed by A Pathway to Hope
Departure date: July 17th, 2020
History
Part of a free-ranging pack of three sibling Husky mixes, this little girl was the shrinking violet of the group.  They were caught and brought in by a good Samaritan who didn't want them to get hurt by wandering free.
Cyrus' Progress Summary:
Detailed notes on this foster dog's progress are posted below the summary.
Relational Behavior

Relates well to other dogs: Yes
Can eat food/treats near other dogs: Yes
Preferred style of play: Running, gentle wrestling, circling Beagles
Is affectionate: Nervous of strangers but seeks attention.  Warms quickly.
Is good with:
. Men: Yes
. Women: Yes
. Children: Probably
. Cats: Unknown
Jumps up on people: No
Mouths: No
Walks well on a leash: Getting better

House Dog Training

Willingly enters her crate: No
Is calm/quiet while in crate: No Yes
Understands going outside to potty: No Yes

Alerts me of need to go outside: Yes

Is destructive of bedding and/or toys: No Yes

Refrains from kitchen counter cruising: No Yes

Stays off people furniture: No Yes

---

Terms of Adoption:

Contact A Pathway to Hope for an adoption application.

Commands:

Comes when called: Yes
Sits on command: Yes
Down / Off: Yes
Shake / Paw: Working on it
Kennels on command: Yes: already sees her kennel as her Safe Place, seeks to be back in there after play or training.

Medical

5 Way: 06/05-2020 (Friends Animal Shelter)
. Booster: 06/30/2020 (Cedarwood Veterinary Hospital
Bordatella: 06/05/2020 (FAS)
Wormed: Dates | Product | Dose | By
. 06/05 – 06/07/2020  Panacur 6.7ml (FAS)
. 06/16 – 06/18/2020 Fendbendazole 7 ml (PMFC)
Rabies: 06/30/2020 (Cedarwood)
Microchipped: 06/30/2020 PetKey Not registered
http://www.petmicrochiplookup.org/
To register: https://www.freepetchipregistry.com/
Spay/Neuter: 06/30/2020 (Cedarwood)
4DX Test: 06/30/2020 (Cedarwood)
RESULTS: all tests were negative
HEALTH CERTIFICATION
Flea/Tick preventative:
. July 3: Fipronil topcal
.
Heartworm preventative:
. July 3, Ivermectin oral, .4 ml
.
NOTES:
. May have been exposed to Parvo June 30.  Will perform test on July 5
.

Diet

4health puppy kibble, 1 cup AM, 1 cup PM
PMFC Peanut Butter Treats
Retriever Basted Beef Sticks
Jones brand Beef Hooves
Gallery
In chronological order, newest at the bottom. Some pictures are linked to a more detailed Doggy Tale about that update, click those to open the related story.
Progress Updates
Progress notes are listed below, in chronological order, newest at the bottom.
June 13th
While she was running freely in a large play yard at the shelter I could not catch her.  She would approach if I was empty handed and let me chuck her under the chin or scratch an ear.  If I carried a slip lead, she wanted nothing to do with me.  With the shelter staff's help we got her crated for transport.  In her kennel, I was able to do the SAFER test and gain some acceptance from her.
She desperately needs brushing and a bath.
That afternoon I took her out on a long lead for walks in the yard.  It is rumored she can go right over a chain-link fence so I'm taking no chances.  With each outing she became more comfortable with and more adept at walking on a lead.  In all cases, she was ready to go back into her room at the end.  It is already her "safe space".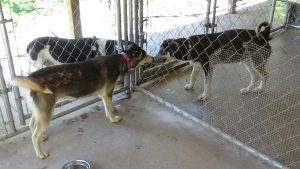 I did take out the privacy barrier between her room and Adam's.  That reduced stress levels quite a bit.
Buddy says, "I like these two, they may be honorary Beagles."
June 15
Cyrus has lost most of her skittishness already.
I brushed her and got a grapefruit sized ball of fur off her.  There is more to go still.
She will now come to me when I call her in her kennel and roll over on her back for a belly rub while I clip on her lead.  She is also doing much better at walking in the yard on a long lead.  Far more calm and manageable.
Her thinking is more scattered than her brother Adam, so she's not learning her commands as quickly, but she tries to please by doing something cute.  If nothing else, she defaults to rolling over for a belly rub.  She is also into using her paws to touch me, and likes to lick faces.  She's such a love!
June 23
Cyrus no longer needs a lead in the yard.  She comes when I call her and has stopped eye-balling the top of the fences as though deciding if she could climb over.  She is learning her commands, but doing it in an unusual way.
Cyrus is hysterical. She watches me put Adam through "sit" several times (he's very good at that one).  Then when it's her turn she will stand up on her hind legs and wave a paw at me.  "No, that's not 'sit', no treat."  So she flops down on her back and wiggles.  "No, still wrong".  So I show her "sit" again.  She fights it, but eventually she does sort of sit on her left leg, for a moment, "Close enough, GOOD GIRL, SIt!" and I give her a treat. I think we've gotten to where she knows what I want from her, but she has to make a game of getting us there. The treats are less important to her than they are to Adam.  She likes to play.
July 3
Cyrus is SUCH a sweetie!  Quite affectionate and gentle.  She is recovering well from her spay surgery.  Her incision looks great and she has not been licking at it.  She HATED the cone that was installed after surgery and quickly kicked it off, then went back to sleep.
She is sharing a kennel with her brother, Adam, they prefer it that way and that freed up space that I cold take in Roscoe Redusky when that need came up.  He left on transport last night, but I'll leave Adam and Cyrus together.  They're both "fixed" now and are happier together.
I feed them with separate bowls but in the same kennel.  I just have to remain on-station to distract whoever gets done first so he or she does not go after the other's bowl.  There are no hostilities when that happens,, I just want to be sure both get their full portion of food.
July 11
About a week ago I found that Cyrus was making a habit of standing in her water bowl to cool her tootsies.  So I laid out the dog's kiddie pool and put an inch of water in the bottom.  She had had spay surgery a few days before and should not be getting wet, but just standing in the pool should be okay.  She did indeed enjoy cooling all four feet at once, but as soon as I looked away for a moment, SPLOSH, and she was lying in eh water.
"No, no, Cy, you mustn't do that!"
I ran her out, dried her off and put up the pool.  She cried and fussed about it for quite a while.
Now she is recovered and can play in the pool again.  Will she still want to?  Will anyone else?
.
Want to help
save lives?

PMFC is a 501(c)(3) Charity

If you enjoy our pupdates, Doggy Tales, and educational articles consider subscribing for notices when new pieces are posted. It's painless and you can unsubscribe any time you want. Your e-mail address is used ONLY to deliver these notices. That's a promise!

You can also support us at no cost to you
with Amazon Smile.