Lennon (A.K.A. "Legs") is a typical, young lab: playful and eager for attention. But for a lab, Lenny is unusually self-controlled and intelligent.
Last updated: June 15, 2019
Base Info: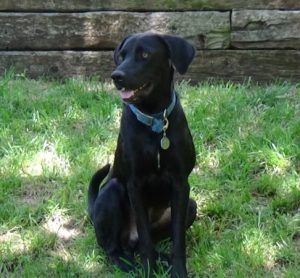 Arrival date: January 21, 2019
Breed: Black Lab
Sex: Male
Age: Young, Adult, Mature, Senior
Weight: 53.5 pounds
Neutered: Yes
General Health: Excellent, Good, Fair, Poor
Temperament: Typical lab: playful and goofy.
Gets Along with Dogs: Yes
Gets Along with People: Yes
Housebroken: Yes

Crate Trained: Yes
Departure date: June 15
History
Lennon was picked up as a stray. He was an emaciated 36 pounds. Newport Animal Control put some weight back on him and he's looking good and looking for a home.
Progress Notes:
Detailed update notes on our foster dogs are posted regularly. For a listing of updates that include Lennon [click here]. A summation and some photos are included below.
Dog to Dog Behavior

Plays well with other dogs: Yes
Can eat food/treats near other dogs: Yes

Dog to People Behavior

Is affectionate: Yes
Jumps up on people: No

Mouths: No
Walks well on a leash: Getting better

House Dog Training

Willingly enters his crate: Yes
Is calm/quiet while in crate: Yes

Understands going outside to potty: Yes

Alerts me of need to go outside: Yes

Is destructive of bedding and/or toys
Yes (when bored)

Refrains from kitchen counter cruising: Yes

Stays off people furniture: Yes


---

Commands:

Comes when called: Yes
Sits on command: Sometimes
Down / Off: Yes
Shake / Paw: No
Crates on command: Yes

Medical

DA2PP: 11/26/2018 (Newport Animal Control)
DA2PP Boooster: 12/15/2019 (N.A.C.)
Bordatella: 11/2612018 (N.A.C.)
Wormed: 12/15/2018, Pyrantel Pamoate: 4.7 cc (N.A.C.)
Rabies: Jan 16, 2019 (Claws & Paws)
Neuter: Jan 16, 2019 (Claws & Paws)
Heartworm Test: Jan. 16, 2019 – NEGATIVE (Claws & Paws)
Flea/Tick preventative:
. Jan 25, NexGard, 50+ Lbs.
. Feb 25, NexGard 50+ Lbs.
. Apr 25, Effipro 45#+
. May 1, Fipronil 45#-88#
. June 1, Interceptor
Heartworm preventative:
. Jan 16, 2019, HeartGuard
. Feb 20, 2019 NuHeart
. Mar. 25, 2019 HeartGuard
. May 1, 2019 HeartGuard
. June 1 2019 Interceptor

Other Notes:

Had Demodectic Mange. NexGuard, Cephalexin, and medicated shampooing got rid of it. Skin scrape exam by Cedarwood on 2/25/19 confirms mange is gone.

Found Lennon had pretty bad femoral head erosion in right hip due to an injury, not degradation. Femur reconstruction by Dr. David Crouch DVM was negotiated. On March 20 Dr Crouch decided Lennon was healing well and is not a candidate for surgery. Just continue his supplement.
Gallery
In roughly chronological order, newest at the bottom. Click the thumbnails to enlarge. Some pictures are linked to a Doggy Tale or video about Lennon, click those to open the related story or video.
After an afternoon of hard play with The Girls a fella needs a nap!



| | |
| --- | --- |
| If you enjoy our updates, Doggy Tales, and educational articles consider subscribing for notices when new pieces are posted. It's painless and you can unsubscribe any time you want. Your e-mail address is used ONLY to deliver these notices. | |