This is a foster dog diary post about Louis. New information will be added to the end of this post so all info on this dog is kept in one place and in chronological order. If you subscribe for updates, a short note will be sent when updates are posted. If you don't subscribe, check back periodically to see what's been added.

Last Updated: Sept 15

Pulled from Newport Animal Control by Steele Away Home – Canine Foster and Rescue.  PMFC is fostering.
Base Info: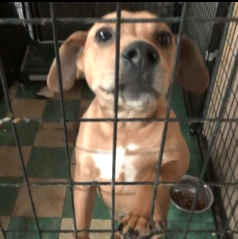 Arrival date: Sept 7, 2019
Breed: Hound
Sex: Male
Age: Puppy, Young Adult, Mature, Senior
Weight: 39.4 Pounds
Neutered: Yes
General Health: Excellent, Good, Fair, Poor
Temperament: Typical for a hound
Gets Along with Dogs: Yes
Gets Along with Cats: Unknown
Gets Along with People: Yes
Crate Trained: No
Housebroken: No

Departure date: Sept 12, 2019 going to S.A.V.E.
History
Unknown
Progress Summary:
Detailed notes on this foster dog's progress are posted below the summary.
Dog to Dog Behavior

Relates well to other dogs: Yes
Can eat food/treats near other dogs: No Yes

Dog to People Behavior

Is affectionate: Yes
Is good with:
. Men: Yes
. Women: Yes
. Children: Yes
Jumps up on people: Not usually

Mouths: No
Walks well on a leash: Not great, but managable


House Dog Training

Willingly enters his crate: No Yes
Is calm/quiet while in crate: No Yes
Understands going outside to potty
No Yes

Alerts me of need to go outside
No Yes

Is destructive of bedding and/or toys
No Yes

Refrains from kitchen counter cruising: No Yes

Stays off people furniture: No Yes

---

Commands:

Comes when called: Yes
Sits on command: Yes
Down / Off: Yes
Shake / Paw: No
Kennels on command: Yes

Louis' Medical

DA2PP: 03/14/2019 (Animal Control)
.             06/27/2019 (Animal Control)
Bordatella: 03/14/2019 (Animal Control)
Wormed: 03/14/2019, Pyrantel Pamoate (Animal Control)
Rabies: 09/07/2019 (Paws&Claws)
Spay/Neuter: 09/07/2019 (Paws&Claws)
Heartworm Test: 09/07/2019 NEGATIVE (Paws&Claws)

Flea/Tick preventative:
. 09/12/2019, ?product?, ?dose?
Heartworm preventative:
. 09/08/2019, Sentinel, 2, 11-25 lbs doses
NOTES:
. Has a scabby spot on lower back which looks to be from chewing or rubbing against kennel fencing.
.

Diet

4health Salmon & Potato recipe kibble
1¼ cup in AM, 1 cup in PM
Progress Updates
In chronological order, newest at the bottom. Some pictures are linked to a more detailed Doggy Tale about that update, click those to open the related story.
Sept 7th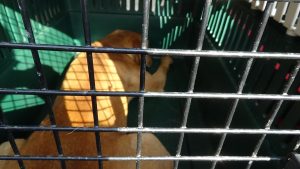 I picked Louis up from Animal Control this morning and took him to Steele Away Home's medical day for neutering.  He crated up and rode well, deciding that making like a splayed frog was hes best way to ride.  It worked and he rode there and them home like this without peeing or pooping in his crate.
I'm told he was good while he waited to: no fussing or carrying on in his crate.  He seems to not be bothered much by his surgery, and has not been licking at his incision.
Sept 12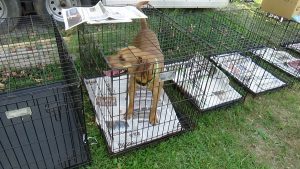 Louis left us today, heading to New Jersey to find a forever home through S.A.V.E.  He rode well, walked politely to the staging area and crated up without a fuss.  He's a good boy, a handsome boy, and I hope he finds a home again quickly.  Safe travels Louis!
Sept 15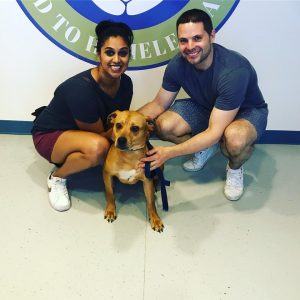 | | | |
| --- | --- | --- |
| | If you enjoy our pupdates, Doggy Tales, and educational articles consider subscribing for notices when new pieces are posted. It's painless and you can unsubscribe any time you want. Your e-mail address is used ONLY to deliver these notices. That's a promise! | |