Lucy was traded to us for one of our foster dogs because Lucy liked to chase her former foster parent's cat.
Last updated: March 12, 2018
Base Info: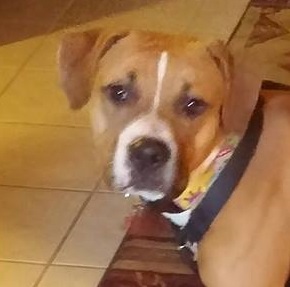 Arrival date: February 24th, 2018
Breed: Staffordshire Bull Terrier
Sex: Female
Age: 1 year plus
Weight: 50 pounds
Spay/Neutered: Yes: Mar. 12, 2018
General Health: Good
Temperament: Good
History
Our rescue received a call from a woman in Morristown who found Lucy in the middle of a road and took her home. Lucy did not get along with her dog and was too strong for the lady to control. Lucy went into one of our foster homes, but wanted to eat their cats, and was too strong for her foster mom to handle. So she's here now and I'll see if I can't help her settle in and accept her role in our pack.
Known Issues & Progress
When Lucy arrived here with her foster parents, she got along with me just fine. We made the trade, getting Sasha out of a pen, Lucy in, and Sasha loaded into their car. As they were leaving, I let Lucy out of the pen to explore the big play yard. She walked beside me calmly.
She caught sight of their car as it descended our long driveway that runs beside the play yard. She looked at me, looked back at the car, then started whimpering! She ducked her head, tucked her tail, and slunk back to the pen. When I approached, she started barking at me with vehemence. She has since been doing her best to chew through the fencing or dig out and barks threateningly at me when I approach.
Feb 26th: By Saturday evening I was able to get Lucy to let me come into her pen and chat with her. We are friends now. On Sunday she wanted to crawl into my lap and snuggle.
People Skills
Once she got past her hurt over being moved again she has been sweet and friendly. She knows her name, comes on command, sits, shakes (paw), has learned, "In your room". During play time she likes to race around at full speed. Sometimes she involves me in her play, not always gently. Once we became friends, she did come over while I was sitting in a chair outside and draped herself across my lap so she could snuggle a bit and I could pet her. She seems sweet, now that she's no longer angry.
Gets Along With Other Dogs
She has dominance issues with some other dogs. She has given her neighbor, Kringle, no problems and she has been in the yard with Buddy (a senior beagle). They got along fine. All of my gang have been out to touch noses with Lucy through her fencing, no harsh words were exchanged.
Lucy insists on intimidating Josephine. That makes Josie anxious and she just wants to go inside, away from Lucy. This is unusual as Josie gets along with and wants to play with EVERYONE, even dogs much bigger than her.
Lucy tries to intimidate Callie too. There is no aggression in this, body language that relays the idea of "I am boss, you knuckle under". Both Callie and Josie capitulate and want to escape.
Housebreaking
I'm told she is fully house-broken and crate trained. She won't becoming into our house because we already have FIVE dogs (Blondie and Cochise are 90 pounders) in our little house and that's too many as it is.
Miscellaneous
Lucy likes to chase cats a little too much.
Lucy has some separation anxiety issues. She settles down once her person (currently, me) is out of sight, but as I'm leaving or if I'm playing with another dog she acts out in a fit that is rough on chain link, could be disastrous to a home. Our Retriever brand transport box crates do hold her at night, so crating while away is an option.
She calms down and is lovey once she has my undivided attention.
Gallery
In roughly chronological order, newest at the bottom. Click the thumbnails to enlarge.
Some pictures are linked to Doggy Tales or videos about Lucy, click those to open the related story.