As part of the Big Doins at Piney Mountain, I moved Lennon's kennel today.   This was Phase One Step Three.  Not that that matters.
The thing is that this kennel could not be taken apart and moved one piece at a time.  Noooooo … this one had to be moved fully assembled (except for the 4×4 timber foundation, those I moved separately). Blondie and Lennon supervised.
If it were possible to get three other people with sound shoulders and strong backs who could all show up here at the same time (that's the hard part) we could have each taken hold of a corner and trundled the thing around to its new spot in a matter of minutes. Sort of like this but on a much smaller scale:
But I don't have such a labor force, so I did it by myself and it took all afternoon.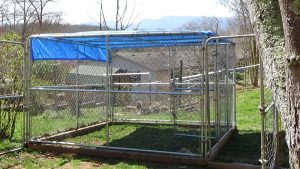 It's moved now, and tied down on its foundation, which I put under it again once the kennel was where I wanted it. I need to get a few bales of wood chips to put in there to keep Lennon out of the mud when it rains, but otherwise it's good.
And, the work area around the slab is cleared.  Well, almost.  Now that Lennon's kennel is moved and the Krazy Fence is buttoned up tight I can take out those last three panels and clear the work area completely.  That will take less than an hour … but I'll do that another day.  Today, I'm tuckered out.
We want to avoid going into debt with a second mortgage to pay for this project so we're taking it on as we accumulate the cash to pay for it. If you'd like to help us speed that along, your donation would be greatly appreciated. You may make a donation on-line with the PayPal button below or you may mail a check to:
Doug Bittinger
1198 Piney Mountain Road
Newport, TN 37821
| | |
| --- | --- |
| If you enjoy our updates, Doggy Tales, and educational articles consider subscribing for notices when new pieces are posted. It's painless and you can unsubscribe any time you want. Your e-mail address is used ONLY to deliver these notices. | |