As the next step in our Big Doins kennel renovation, I spent the afternoon yesterday pulling out the remaining kennel/fence panels and cleaning things up.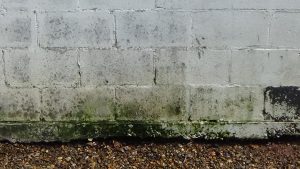 I started by spraying the cinder block wall with green gunk remover (AKA bleach water).  I let that set for about a half hour and power washed the wall.  That took care of the green gunk, mud splatters, and some of the paint.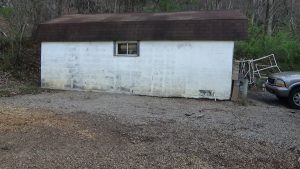 While I was waiting for the bleach to work its magic I pulled out the remaining kennel panels that had been serving as fencing and gate.  This also cleared the wall for cleaning, since the rear panel hit the wall four feet in from the back.corner of the garage.
I have to be careful now to remember that these panels are gone.  I have been allowing the dogs to follow me into this space when I went in to work there.  But now that it's wide open all dogs must stay behind the Krazy Fence unless leashed.
While I had the power washer out and gassed up, I decided to clean up the dog houses too.  I used my Concrete Weasel tool, which swirls a single jet of high pressure water to blast dirt and gunk from a surface.  My friend, Willard Overstreet, introduced me to this tool during a church clean-up project and I had to have one.
I'm sorry about the strange picture: I forgot about the vibrations the Weasel makes when I mounted the camera to the wand, and the camera's shake-canceling software did strange things with that. But you get the idea.  This thing works really well even on a small power washer.  Put one on a commercial grade washer and it will strip paint!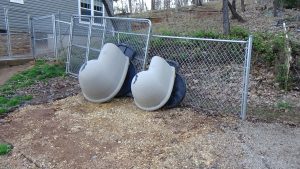 When finished I set the dog houses aside, along with the kennel panels, where they will be out of the way, and hopefully stay clean until needed again.
All impediments have been moved out of the way, the block wall cleaned, and the foundation timbers dug up.  We are ready for concrete.
Since we have had some nice weather, Mr. Gann should be gaining on his back-log of work and our job should be creeping up on his Jobs To Do list.  All I can do now is wait.
John K, Mike R, and I have been discussing roof construction, materials, and costs.  But I can't do anything about that until the concrete slab is poured and cured.  Once we can walk on the slab I *could* start on the roof, but since I don't have the money for materials yet, I'll go ahead and cut down the kennel fronts and assemble the three kennels on the slab.  That way I can open up for fostering again.  We can work above the dogs when the funding is available.
That gets you up to date.  The final step in Phase One will be the pouring of the slab.  See you then!
| | |
| --- | --- |
| If you enjoy our updates, Doggy Tales, and educational articles consider subscribing for notices when new pieces are posted. It's painless and you can unsubscribe any time you want. Your e-mail address is used ONLY to deliver these notices. | |