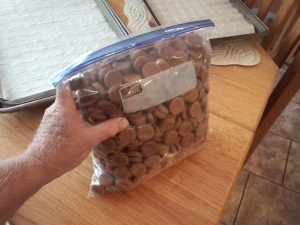 I spent just under four hours today making just over 1,000 peanut butter dog treats. Ostensibly these are for the Quilts and Canines event on the 15th of the month. In actuality, some will be needed elsewhere before then so I'll have to make more next week.
The process of making these peanut butter treats left a large peanut butter jar empty. I like to give the empty jars to the outside dogs because they tend to miss out on a lot of treats the house dogs get. But today I decided to give it to Blondie Bear. She's been feeling down.
There was a time when she and Cochise were the only house dogs. Occasionally a foster dog would earn enough Good Dog points to come in for housebreaking, but the vast majority of the time it was just the four of us and Cochise and Blondie got lots of attention from Marie and me. But then we adopted Josephine. And Buddy. And Callie. And Moonshine is an in-house foster dog. Blondie is pretty laid back and doesn't get huffy when the others push in front of her to get the People attention. But it hurts her feelings. So I thought it might lift her spirits if I gave HER the peanut butter jar this time.
She was laying on the floor in the kitchen watching me work, everyone else was snoozing in the living room or the den. There should not be a big tussle as the others try to get it away from her.
I set the jar down beside her. She looked at it, looked at me, looked back at the jar. She licked tentatively at the rim and said as she stood up, "Too rich for me. I'm trying to watch my figure." and walked away.
By now some of the others got wind of the fact that I gave her something that I did not give everyone else and came to investigate. First on the scene was Moonshine. At first she stood off about four feet, her glance darting around the room looking for the others. She glanced at me several times, judging whether that jar was fair game or if I would scold her is she approached. I just watched as I worked.
Josephine was creeping up on the scene from the other side of the table. Moonie decided it was now or never. She stepped up, still casting furtive glances, maybe deciding if this was a trap. It sure smelled GOOD! Josie was stepping closer, so Moonie lowered her head, ever so slowly, still glancing about, and took the rim of the jar gently in her teeth.
She paused, listening, glancing at me, glancing at Josephine, then slowly lifted the jar, turned, and tip-toed out of the room. Once she got into the hallway I heard her claws clickety-clacking rapidly down the tile floor to the bedroom.
I was cutting out treats and loading them on a tray while this was going on. Timing is important in this, especially when I'm doing multiple batches, so I had to keep going until it was time to put that tray in the oven. With that done I took a moment to slip back and make sure Moonshine wasn't making a mess of the carpet.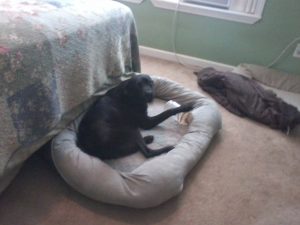 She was lounging on a bed, thoroughly enjoying licking every morsel of peanut butter she could reach out of that jar.
As I came to the door she grinned at me, flapped her tail a few times, and stuck her nose back into the jar, tongue snaking out as far as it could to retrieve that peanutty goodness.
That thing kept her happily occupied most of the afternoon! I'm sorry Blondie wasn't interested, but glad Moonshine enjoyed it. She has started her heartworm treatment and will be getting the injections soon. I'll have to make sure I empty another peanut butter jar when she comes home from that.
| | |
| --- | --- |
| If you enjoy our updates, Doggy Tales, and educational articles consider subscribing for notices when new pieces are posted. It's painless and you can unsubscribe any time you want. Your e-mail address is used ONLY to deliver these notices. | |