Phoenix is so named because everyone who knows her believes that although she may have been found

in the ashes of her life, she WILL rise again.

Last Updated: Feb 29, 2020

Base Info:
Arrival date: Jan. 15, 2020
Breed: Shepherd/Grey Hound  mix
Sex: Female
Age: Puppy, Young Adult, Mature, Senior
Weight: 34 Pounds at intake
.              37.1 lbs Feb 3rd
.              39.1 lbs Feb 27
Spayed/Neutered: Not Yet
General Health: Excellent, Good, Fair, Poor
Temperament: Sweet, calm, affectionate, goofy
Departure date: Undetermined  Headed for A.R.N.N.E.
History
Phoenix was spotted running loose behind Food City West in Newport and Animal Control was called in to catch her.  She was scrawny, wormy, and extremely frightened, but not at all aggressive.  She spent 25 days at Animal Control before PMFC pulled her on behalf of ARNNE.  During that time she ate very little and was scared and depressed despite the NAC staff's attempts to comfort her and provide an enticing diet.
Phoenix's Progress Summary:
Detailed notes on this foster dog's progress are posted below the summary.
Relational Behavior

Relates well to other dogs: Yes
Can eat food/treats near other dogs: Yes
Preferred style of play:
Is affectionate: Yes
Is good with:
. Men: Yes
. Women: Yes
. Children: No Yes
. Cats: Yes (no reaction to cats at NAC)
Jumps up on people: No
Mouths: No
Walks well on a leash: Yes

House Dog Training

Willingly enters her crate: Yes
Is calm/quiet while in crate: Yes
Understands going outside to potty: Yes

Alerts me of need to go outside: Yes

Is destructive of bedding and/or toys: No

Refrains from kitchen counter cruising: Yes

Stays off people furniture: Yes, so far.

---

Commands:

Comes when called: Yes
Sits on command: No
Down / Off: N/A
Shake / Paw: No
Kennels on command: Yes

Medical

DA2PP: 12/23/19 (NAC)
. Booster: 02/03/2020 (Cedarwood)
Bordatella: 01/16/2020 (PMFC)
Wormed: Dates | Product | Dose | By
. 12/20/2019 Pyrantel 3 cc NAC
. 01/14/2020 Proziquantel ?? NAC
. 01/14-16/2020 Panacur 8 ml NAC/PMFC
Rabies: 02/03/2020 (Cedarwood)
Spay/Neuter: date (by)
Heartworm Test: 01/14/2020, Neg (Cedarwood)

Flea/Tick preventative:
. date, product, dose
Heartworm preventative:
. 01/16/2020, Ivermectin solution, 0.4 ml
. 02/17/2020, Ivermectin solution, 0.4 ml
NOTES:
.
.

Diet

We've switched her from canned dog stew to home-made stew using recipes from my upcoming book.  Right now she's eating the Skinny Dog Stew made with chicken, potatoes and cheese (and spinach) the chicken fat, potatoes and cheese help her put on weight faster.
Gallery
Progress Updates
Progress notes are listed below, in chronological order, newest at the bottom.
Jan 18
I've let Phoenix settle in for the past few days.  She is well behaved.  Rarely barks at all.  She acts like she's been a house dog before.  She's scrawny, so it's hard  to keep her warm in the January days, so we've gone through a couple of iterations of outer wear for her.  She loves her hoodie!
She sleeps inside in a crate at night and on the colder days.  When it's warmer she has a futon with a thick felt blanket atop it to lounge on.  She needs to put on weight, but she eats so little that's going to be hard.
Jan 24
Phoenix very much prefers to be indoors in her cushy crate where it is warm and dry and there is no wind.  Because she is SO thin, she does not tolerate cold at all.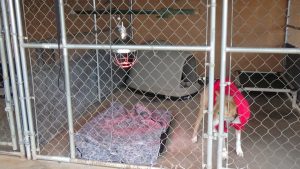 When she does come outside, on nice afternoons: some have been up in the 50 degree range, she gets a futon as a bed and a warm wool blanket to lay on.  I hang a brood lamp above to provide warmth as well.
On those nice afternoons, Phoenix does like to wander the yard.  Now that her depression is dissipating she is eating better.  That gives her strength to go out walking around.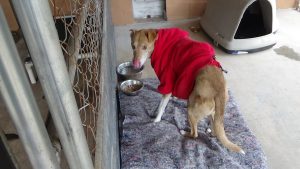 She is a picky eater.  She won't touch kibble yet, and the canned food has to be stew.  In order to get her to eat the pate' style dog food I have to chunk it up and add beef or chicken broth — effectively making it stew.  And it has to be warm, she won't eat cold stew.  But then neither would I.  So I warm it before I take it out to her.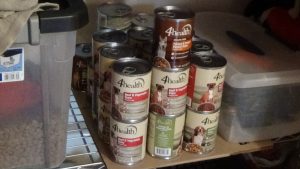 When she first arrived, I was doing well to get her to eat one can a day.  She's up to finishing three cans per day now.  It's hard to tell if she's gained any weight just by looking at her, I need to take her to Cedarwood and put her on a scale.  But her energy level is up and she's developing a delightful, quirky personality.  She has quite the sense of humor. 
I have yet to hear her bark, but she is communicative through head tosses and mouth movements.  She lets me know when she needs to go out, and when she's ready to go back in.  Her eye's are brighter and she desires affection more now that she feeling better.  Starvation does tend to take the fun out of life.

Jan 27
Normally Phoenix makes a quick trip outside to potty then wants back inside where it's warm.  But since I put a heated pad in her bed she is enjoying being outside much more.
I think maybe she is Shepherd mixed with some Grey Hound.  Now that she's developing a personality again, some of her mannerisms are decidedly Gra-Hooond.
Jan 29
Phoenix is a skinny gal who has been gradually increasing her food intake. She does not like kibble, so I feed her wet food. She prefers stew. Especially beef stew.
She is to where she will polish off a can at each of her three daily meals. Time to increase her portion to help her gain weight. I thought I'd try mixing 1/2 cup of kibble into her stew before I warm it up for her. It must be warm when I take it to her or she'll leave it and go back to her heated bed.
She took a couple of bites then reared her head up and stared at the contents of her bowl for several moments. Turning her head she looked over her shoulder at me with a definite "What do you think you're trying to pull here, bub?" look.
After a while she began to eat again, slowly. It took her quite a while to finish. When I collected her bowl, there in the bottom was almost 1/2 cup of kibbles that had been sucked clean and spit back out!
Okay, you win: no more kibbles!
Jan 30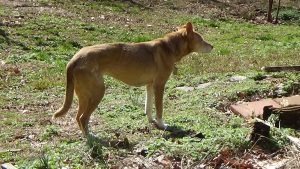 Jan 31
Today I let her out of her kennel to use the yard while I went in the house to warm up her lunch. Previously she never moved faster than a leisurely walk, but when she saw me coming down the path with her bowl of warm salmon mush she trotted over and did a little happy dance. It made my heart SO happy to see her acting like a dog again.
Feb 2
Her level of activity and animation are WAY up the last few days (see video in Gallery above).  This is great to see.
Feb 3
Phoenix went to Cedarwood for her physical and an estimate on the cost for getting her in good shape again.  She did well, and everyone commented on how much better she looks now and how much more animated she is.  Phoenix was friendly with the other people in the waiting room and the Shepherd pup who was waiting with us.
She rode well with me in the truck, and was highly conversant the whole way.  She's so funny!
Feb 16
I love this dog!  She is so funny.  I have yet to hear her bark, but she talks to me all the time with mouth movements, head shakes, and bouncing on her front legs.
She is gaining weight and I'd like to have the blood panel done on her as soon as we can afford it to see if she is a candidate for surgery.  If she's got weak kidneys or heart anesthesia could kill her, so we need to know that first.
Phoenix loves attention and walks well on a leash.  She sleeps in a crate inside the heated bunkhouse, and is eager to go inside at 9:00 PM.
She can't hold her bladder longer than from 9:00 PM to 4:30 AM, so I go out to walk her and put her back in her box until breakfast time at 5:30.  If it's warm enough, she comes out to her kennel to eat, if not she eats inside and I'll bring her out when it warms up.
She needs walking every 2 hours during the day or she will be needing a blanket change and crate scrubbing.
Feb 18
I tried making some home-made stew as an alternative to canned food for Phoenix.  Will she like it?
Feb 20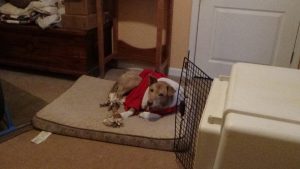 Phoenix was getting lonely sleeping in the bunkhouse alone at night, so I brought her (and her crate) into the house.  She's doing REALLY well.   When she came in Phoenix immediately claimed this bed as "hers".  That will be contested, but for now that claim holds.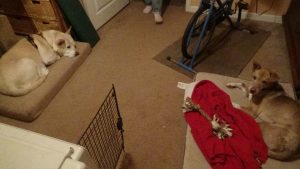 The whole PMFC gang came to say "Hi", but Blondie Bear settled in to keep Phoenix company.  Blonde Dogs must stick together.
She is SO sweet, gentle, and unassuming.  In the evening I put her hoodie back on her and took her outside. She wandered off into the yard, I went back inside.  She was gone for the longest time, so I went out to call her in because it was cold.  When I called her she came BOUNDING back through the snow like a gazelle, "Oh! You're letting me come back in!?"  It's hard to say what this girl has been through, but she doesn't expect much from people.
Feb 25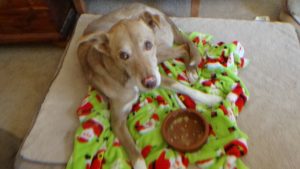 I've switched Phoenix to new stew recipe that uses potatoes, cheese, and chicken fat to help her gain weight.  She LOVES it!
We've also launched a new fund-raising campaign to get the funds we need to pay for the vet care she needs.  I'm having no luck at all with grants.  Gonna have to do it the old fashioned way.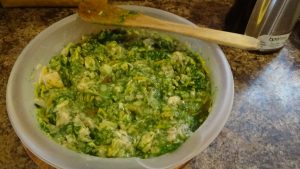 Phoenix is doing fabulously as a house dog.  She has mostly stayed in the den, but has recently started coming out to wander a little.  She does like to dine in the kitchen with the others, I have to stand guard to keep Josephine from trying to horn in on Phoenix's meal.  They all want some of THAT!
Want to help
save lives?

PMFC is a 501(c)(3) Charity

If you enjoy our pupdates, Doggy Tales, and educational articles consider subscribing for notices when new pieces are posted. It's painless and you can unsubscribe any time you want. Your e-mail address is used ONLY to deliver these notices. That's a promise!

You can also support us at no cost to you
with Amazon Smile.