John Kaprocki of Great Smoky Mountain Woodworks and I spent all day yesterday and half a day today framing up the roof for the new kennels in our Big Doins on Piney Mountain project.  John is an expert at this stuff, I just try not to get in his way.
Actually John did comment on how much faster these things go with two people than with one. And it is not as physically straining.  Let's face it, tossing a bunch of 16 foot long 2x8s (in Southern Yellow pine) up on top of the beam and ledger is rough enough with two of us horsing them around, doing it all day long single handed would be murder.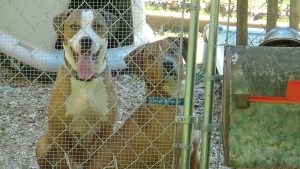 Blaze and Rocky watched us work both days and were not disruptive at all, they seemed genuinely interested in what we were doing.  Maybe Blondie has explained to them that Robert, Terry, John, and I are building them a new house.  I think Blaze LIKES that idea!
I have ordered the metal roofing and it should be ready to pick-up on Monday.  We should be able to get a fair bit of that done Monday.  The big issue will be how fast it warms up up there on our hot tin roof.
| | |
| --- | --- |
| If you enjoy our updates, Doggy Tales, and educational articles consider subscribing for notices when new pieces are posted. It's painless and you can unsubscribe any time you want. Your e-mail address is used ONLY to deliver these notices. | |