Rocky was the alpha (dominant) in a bonded pair of brothers. He spent nearly all of his life in a shelter and was skittish around people. He needed socialization, and release from his roll as his brother's keeper. This has been achieved.
Last updated: July 12. 2019
Base Info: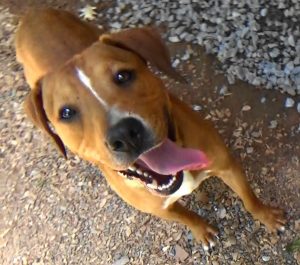 Arrival date: April 17, 2019
Breed: Hound mix
Sex: Male
Age: Young, Adult, Mature, Senior
Weight: @ 40 Pounds
Spay/Neutered: Yes
General Health: Excellent, Good, Fair, Poor
Temperament: Good: has become affectionate.
Gets Along with Dogs: Yes
Gets Along with People: Yes is a little skittish around new people.
Housebroken/Crate Trained: Working on it
Departure date: July 12, 2019 headed for SAVE
History
Rocky was one of 6 puppies and their mother who were owner surrendered to Newport Animal Control because the original owner went to jail, the owner's father didn't want the dogs and his mother could do nothing with them because the mother dog became aggressive after she gave birth. All of the dogs were adopted out, Blaze and Rocky together, but were returned because they were kept outside and they barked, causing neighbors to complain. Rocky and his brother had become bonded, with Rocky as the dominant. Rocky tended to bully his larger brother, eating his food, taking his treats, but also played the role of protector and alpha.
Progress Notes:
Detailed update notes on our foster dogs are posted regularly. For a listing of updates and Doggie Tales that include Rocky [click here]. A summation of his progress is included below.
Dog to Dog Behavior

Relates well to other dogs: Yes
Can eat food/treats near other dogs: Yes – but is greedy.


Dog to People Behavior

Is affectionate: Yes
Jumps up on people: No
Mouths: No
Walks well on a leash: Almost

House Dog Training

Willingly enters his crate: No / Yes
Is calm/quiet while in crate: No / Yes
Understands going outside to potty
No / Yes

Alerts me of need to go outside
No / Yes

Is destructive of bedding and/or toys
Yes / No

Refrains from kitchen counter cruising: No / Yes

Stays off people furniture: No / Yes

---

Commands:

Comes when called: Yes
Sits on command: No
Down / Off: Yes
Shake / Paw: No
Kennels on command: Yes

Medical

DA2PP: 08/22/18 (NAC)
Booster: 09/13/18
Bordatella: 08/22/18 (NAC)
Worming history:
. 08/21/18,
. Pyrantel Pamoate: .5 NAC
. 12/13/18
. Pyrantel Pamoate, 3.5 cc NAC
. 05/07-09/2019
. Safeguard, 10cc PMFC
Rabies: 10/03/2018 (Cedarwood)
Microchipped 10/03/2018
Neuter: 06/13/2019
Heartworm Test:
06/13/2019 – Negative
Flea/Tick preventative:
. May 1, Effipro, 2.5 cc
. July 2, brand unknown
Heartworm preventative:
. 06/14/2019
Gallery
In roughly chronological order, newest at the bottom. Click the thumbnails to enlarge. Some pictures are linked to a Doggy Tale or video about Rocky, click those to open the related story or video.
As a final entry on this end (if I get an adoption picture, I'll add that) Rocky is an energetic fellow with a sweet nature under the drive.  He plays well with others in that he will get as rowdy as another dog will tolerate, but back off when that limit is reached.  When he shares the yard with low energy dogs like Buddy Beagle they end up walking around together.
Rocky no longer sees himself as Blaze's protector (and master).  The two get along great but can also play with others even when separated.
He's a good little fella and will only get better as he is exposed to new environs and more sedate dogs.  His play group here were all pretty rowdy.  Happy Tails, Rocky!
| | | |
| --- | --- | --- |
| | If you enjoy our updates, Doggy Tales, and educational articles consider subscribing for notices when new pieces are posted. It's painless and you can unsubscribe any time you want. Your e-mail address is used ONLY to deliver these notices. | |