This is a foster dog diary post about Rosco. New information will be added to the end of this post so all info on this dog is kept in one place and in chronological order. If you subscribe for updates, a short note will be sent when updates are posted. If you don't subscribe, check back periodically to see what's been added.

Last Updated: Nov. 15

Rosco Steele is one of several siblings who were rescued from a hoarding situation and have been in foster care.  His sister, Sable, was staying with us until just recently.  I can definitely see the family traits.
Base Info: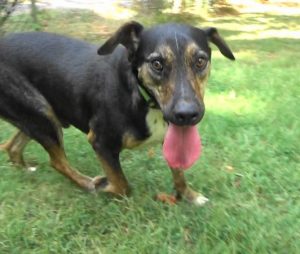 Arrival date: Sept 19, 2019
Breed: Feist mix
Sex: Male
Age: Puppy, Young Adult, Mature, Senior
Weight: @ 35 Pounds
Neutered: Yes
General Health: Excellent, Good, Fair, Poor
Temperament: Shy, clingy, feisty
Gets Along with: People, Dogs, Cats
Crate Trained: No.
Housebroken: No

Departure date: Nov. 15, 2019
History
Pulled from a hoarding situation many months ago, held in foster care since, but not trained.  He's here for training and socialization.
Progress Summary:
Detailed notes on this foster dog's progress are posted below the summary.
For a listing of Doggy Tails that include Rosco [click here].
Dog to Dog Behavior

Relates well to other dogs: Yes
Can eat food/treats near other dogs: Yes
Preferred style of play: Undetermined

Dog to People Behavior

Is affectionate: Yes
Is good with:
. Men: Yes
. Women: Yes, but prefers men
. Children: Unknown – he's pretty wild right now.
Jumps up on people: Yes
Mouths: Yes: this has turned to licking, no longer nips.
Walks well on a leash: Yes Keep the lead short and he does well.

House Dog Training

Willingly enters his crate: No
Is calm/quiet while in crate: Eventually
Understands going outside to potty: No Yes

Alerts me of need to go outside: No Yes

Is destructive of bedding and/or toys: Yes

Refrains from kitchen counter cruising: No Yes

Stays off people furniture: No Yes

---

Commands:

Comes when called: Yes
Sits on command: No
Down / Off: Yes
Shake / Paw: No
Kennels on command: Yes (with a bribe)

Rosco's Medical

DA2PP: 11/15/2019 (Claws and Paws)

Bordatella: 11/15/2019 (Claws and Paws)
Wormed: Dates | Product | Dose | By
Unknown
Rabies: 06/13/2019 (Claws and Paws)
.             11/15/2019 (Claws and Paws)
Neuter: 06/13/2019 (Claws and Paws)
Heartworm Test: 06/13/2019, NEGATIVE (Claws and Paws)
.              11/15/2019 (Claws and Paws)

Flea/Tick preventative:
. 07/13/2019, product?, dose?
. 09/26/2019, TevraPet Activate II, 1.6 ml
. 10/27/2019, TevraPet Activate II, 1.6 ml
Heartworm preventative:
. 07/13/2019, Interceptor, dose?
. 09/22/2019, Ivermectin solution, 0.4 ml.
. 10/27/2019, Ivermectin solution, 0.4 ml.
NOTES:
. No health issues known other than lapsed HW preventative.
.

Diet

4Health Salmon & Potato recipe, 1¼ cups AM, 3/4 cups PM.
Progress Updates
In chronological order, newest at the bottom. Some pictures are linked to a more detailed Doggy Tale about that update, click those to open the related story.
Gallery
Sept 21
Rosco is definitely Sable's brother!  Their mannerisms are so much alike its spooky.  Like Sable, he is affection starved, like Sable he is really rowdy, like Sable he has no clue how to properly interact with people.  But these things are why he is here at Piney Mountain: we will teach him these and he will become a good pet for someone.  Like Sable, he will always be an active dog, suited for a family that likes a lot of activity, not a family that wants a couch potato.
So far he is getting along great with his kennel-neighbors, Major and Faith.  He does not stir up trouble.  His most annoying habit is to "yip, yip, yip" all night long if I leave him outside with the others.  To combat that I take him inside the bunkhouse and crate him.  He's not fond of that, but Faith and Major get jealous because they both want very much to be House Dogs and try to get through the gate to the bunkhouse when I let them out for their late night potty runs if I take Rosco inside first.  Once everything settles down, Rosco does too and he seems to sleep all night.  So far he has not torn up the blanket in his crate either.
Sept 23
This morning was the first time he left me alone to clean his kennel and went off to explore the play yard.  Before this he tended to be with me, underfoot and in the way as he demanded attention, while I worked.  My neighbor was out watering her garden and Rosco decided she needed barking at, so that helped to draw him away for a while.  He also peed in the yard for the first time I praised him lavishly for that, hopefully it will encourage him to do that more often.
He is also sleeping through the night once I crate him in the bunkhouse.  I get him out again as soon as possible in the morning and he has not messed up his crate.
Sept 29
For the past three nights Rosco has been sleeping outside with his foster friends instead of being herded inside the bunkhouse to be crated so he doesn't keep the whole mountain awake with his shrill (and LOUD) barking.  He seems to have learned that being well behaved means he gets to stay out with his friends.
Last night he did get into a session of howling between 2:30 and 3:30, but it was a soft "wooo, wooo, wooo" and it was intermittent.  I doubt it disturbed anyone.  I probably would not have heard it had I not been awake anyway.
Oct 4
Yesterday Marie got home late because she stopped for groceries on the way. Feeding time for all of us was later than normal as a result.
I was out feeding the foster dogs and Rosco started growling, snarling, and barking viciously: his back was up and teeth showing. But he was facing the back of the kennels. "What in the world is going on here?" I wondered, and I began looking to see what he was so upset about.
Then I realized: the setting sun was casting my shadow on the back wall of the kennels and he was trying to defend us all from this dark intruder.
Rosco is a knucklehead sometimes, but quite devoted.
Oct. 11
Not much progress this week.  He's a little better at leash walking, but I have to keep him of a really short lead or he runs circles around me and binds my legs.  He also still has the bad habit of refusing to pee in the yard, but waiting until he's back in his room, then squatting like a girl and flooding his room again.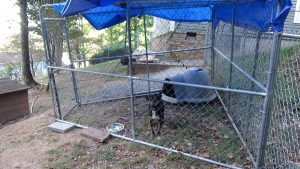 There was another dog that a rescue wanted to pull from Animal Control, and wanted me to foster for a few weeks.  But I didn't have room since none of my current fosters are ready to be in-house dogs.  SO I decided to build another kennel.  A temporary job, but secure and comfy.  Given Rosco's propensity to pee all over, I decided to move him into the temp-kennel and let Ford have Kennel #2 — once I'd power washed and sanitized it really well.
Well, Ford got pulled by another agency the day before I finished this kennel.  I had to make a door from scratch, that took longer than I'd thought.  But Rosco seems to actually be happier where he is than he ever was in the "good" kennel.  Probably because he'd been on dirt since he was born, and that's what he's used to.  He's drinking less water, peeing less, and is willing to use the yard.  Go figure!
Nov 12
The past month has seen slow improvement in Rosco's behavior.  He has come to the realization that he gets more affection when he is not a whirling dervish trying to demand my attention by nipping at my hands and tripping me.  He is much better at walking on a leash.  And he is doing more solo-play (exploration) in the yard, instead of being always running tight circles around my legs.
He is energetic.  He will ALWAYS be energetic.  His thought processes are frantic, so his attention levels are low.  He is still food-centric, so training with treats is counterproductive.  Using petting works better.
Nov. 15
We said our "farewell"s to Rosco yesterday as he boarded the rescue bus to New Jersey. He did us proud. Earlier in the day he had blood drawn for a heartworm test, he sat still and didn't even flinch at teh needle stick.
He was talkative (yippy) as we drove hither and yon, but wasn't thrashing around in his crate.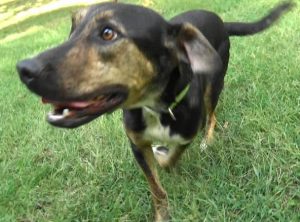 When we got to the transport site he walked calmly to the staging area and was timid but controlled as other people greeted him.  He
let me lift him into his crate and entered willingly.
In short: he behaved like a normal dog, which has been our goal all along. Good boy, Rosco, and happy tails to you!
Want to help
save lives?

If you enjoy our pupdates, Doggy Tales, and educational articles consider subscribing for notices when new pieces are posted. It's painless and you can unsubscribe any time you want. Your e-mail address is used ONLY to deliver these notices. That's a promise!