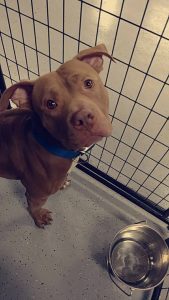 Last updated: December 29, 2017
Roscoe is back!
Unfortunately he did not pass Universal K9's qualifications for acceptance into their police dog training program. Newport Animal Control's attempts to get him into one of several "pit bull" rescues came to naught as well. But Steele Away Home – Canine Foster and Rescue's Intake Coordinator (Amy) agreed to let me bring him back here as a Steele dog.
Roscoe went out the back door for a walk just as I was coming in the front door of Animal Control. That gave me a few minutes to talk with Lisa and Alicia. They had a packet made up for me with the transfer form, shot record, and a microchip kit.
Roscoe came back in via the front door, and when he saw me standing there he just EXPLODED in happiness: bounced around then stood up, wrapped his paws around my neck and licked my face. Now I need a shower! When I took him out to the truck he leapt up onto the tailgate and pawed at the door of the transport box, "Let me in, let me in, I want to go home!" He sang a song of joy all the way home!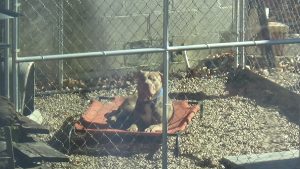 This afternoon I've been busy indoors, and Roscoe has been lounging on his Coolaroo in the sunshine enjoying life on the mountain. No fussing or barking. All the other dogs have been out to say, "Welcome back".
I have a large crate set up for Roscoe to sleep in our house at night, because it gets cold enough at night that his short fur will not protect him much. He's been inside before and did really well.
History
Roscoe's original owner was incarcerated. While in jail he asked his mother to look after Roscoe. She agreed, but Roscoe killed her cat (NOTE: Roscoe is NOT good around cats), and she turned him over to The City of Newport Animal Control. He was there a long time. We sprung him. Roscoe insists the cat started it.
Temperament
Roscoe is big (about 100 pounds) and strong and bouncy. He doesn't realize how big he is. But he is not at all mean (except with switchblade carrying cats). He is affectionate and playful. He loves tennis balls (they remind him of cats).
Accomplishments
Leash Walking: He pulls like a tractor! Only strong people should even try this or you *will* become a sled. I have fitted him with a "front attach" harness and am working with him on proper leash walking behavior.
Crate Trained: Yes. He goes into a crate for a bribe and is calm once in there. Make sure he has a nice thick blankie!
Destructive of bedding: He is good to his bedding. The only issue is that he will wad up his pillow blanket and suck on it like a pacifier.
House Broken: Yes.
Rides well: Yes. He loves to ride. At first he was too bouncy and wild to be inside, but now has calmed down to where he sits on the passenger seat of my truck and rides well. I do use a safety harness and tether that's bolted the floor for his own sake.
Good with other dogs: He has been around all of our dogs. Has been in the house with them, and has been in the yard with most of them. Roscoe does not initiate hostilities, but will sometimes invite play when it is not wanted. I supervise closely when he is around the "sensitive" ones. He is learning to respect the wishes of others.
Comes when called: Almost always, now. Sometimes he goes "deaf"if he's really interested in something in the grass.
Sits on command: Yes!
Obeys Down/Off : Doing better now. He stands up against me when he gets excited, but when he does he's supporting his own weight, not throwing it onto me. Mostly he will lean against my legs and ask for scritchies when he wants attention.
Food Aggressive: Not at all. He has successfully shared the living room with other dogs while gnawing on chewies (See Sharing Chewies with Blondie below). Roscoe and Buddy are fed in their crates with the crates right next to one another and Roscoe shows now tendency to guard his food. He eats leisurely, than lays down for a nap.
Words he Knows: Come, Sit, Down, In Your Room, Inside, Outside, Play, Drink, and Gentle! I will remind that knowing these words and immediately obeying them every time are two different things.
Final Chapter
Roscoe is being adopted! This will be a rare local adoption: happens only with people we know well enough to be assured that the dog will be properly cared for and loved. In this case, the daughter of one of our foster parents. We've had a successful meet-n-greet, she and her husband have considered it carefully and decided they really want Roscoe as a family member. He will be leaving us tomorrow.
Miscellaneous
Newest videos and photos at the bottom.




| | | |
| --- | --- | --- |
| | If you enjoy our updates, Doggy Tales, and educational articles consider subscribing for notices when new pieces are posted. It's painless and you can unsubscribe any time you want. Your e-mail address is used ONLY to deliver these notices. | |